Shaun Of The Dead's Nick Frost Takes Up Salsa Dancing For Cuban Fury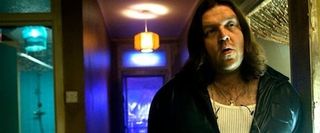 Nick Frost as an aspiring salsa dancer? I can't say I pictured it, but I also can't say I don't absolutely love the potential in a movie that has the Shaun of the Dead star doing a bit of Latin dancing. It looks like we'll see Frost's moves eventually, as he's set to star in a U.K. comedy called Cuban Fury.
According to Variety, Frost has signed on to star in Cuban Fury, a film based on his own idea, which will have him playing a "down-on-his-luck man" who decides to revisit his passion for salsa dancing when he falls for his beautiful American boss. Playing said boss, Parks and Recreations' Rashida Jones. Also among the cast are Chris O'Dowd (Bridesmaids) and Twenty-Twelve's Olivia Coleman.
Cuban Fury is written by Jon Brown and will mark the feature directorial debut for James Griffiths, whose recent TV credits include NBC's Up All Night, and Showtime's Episodes, the latter of which follows a British couple who come to the U.S. to adapt their award-winning TV show for American television. His experience on the Showtime series may prove useful for a film that involves a British man falling for an American woman.
As for those of you who can't picture Frost dancing, from what Variety reports, he's been salsa dance training for months. He went on to say, "But this film will hopefully show that it's not just about aesthetics and that you don't have to look incredibly beautiful to be a good dancer."
Hopefully it does!
Cuban Fury will be produced by Blighy's Big Talk Pictures and is scheduled to begin lensing in seven weeks.
Your Daily Blend of Entertainment News
Thank you for signing up to CinemaBlend. You will receive a verification email shortly.
There was a problem. Please refresh the page and try again.