Should Bryan Cranston Be Lex Luthor In Man Of Steel 2? We Have Another Suggestion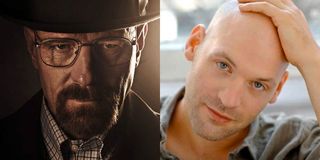 Though all the buzz right now is the appearance that Batman will be making in Man of Steel 2-- or Batman vs. Superman, or whatever they end up calling it-- we have strong reasons to expect Lex Luthor in there too. The Easter Egg reference to Lexcorp in Man of Steel was put there for a reason, and Superman surely can't go much longer without facing his greatest foe. So if Lex is inevitable… who should play him?
Latino Review's El Mayimbe, who routinely has his ear to the ground about superhero movie casting and often gets it right, thinks he knows:
It doesn't take much sleuthing to figure that's Bryan Cranston, who has major roles in Warner Bros. projects Argo and the upcoming Godzilla, and who will be wrapping up his legendary stint as Walter White when the final episodes of Breaking Bad start airing this Sunday. But you also didn't need that hint to figure that Cranston was on someone's mind for the Lex Luthor part-- when you think of popular and talented actors who can look terrifying and bald, Cranston is a gimme. The only more obvious choice is Samuel L. Jackson, and he's got his own superhero universe on his hands.
Cranston would be a fantastic choice, though with no information on whether the studio has made him an offer or even if Cranston is interested, we can't assume he'll ever even see the script. So while things are still up in the air a bit… can we make a tiny suggestion? How about another actor who's bald, incredibly talented, and capable of going some really, really dark places:
OK, so Corey Stoll isn't actually bald in Midnight in Paris-- he donned a wig to play an amazingly fierce Ernest Hemingway-- but if you caught his stirring performance on Netflix's House of Cards you know he's great in his natural, hairless state too. Stoll isn't nearly as big a name as Bryan Cranston, but his House of Cards performance put him on the map, and a role as Lex Luthor would be a perfect kind of springboard, much in the way Michael Shannon launched to a new level as Zod in Man of Steel. Plus, Lex and Clark Kent are supposed to be the same age; Cranston is nearly 30 years older than Henry Cavill, while Stoll is a mere 7 years ahead. That's a minor detail about the character, but when you're fighting for a lesser-known character actor to take the place of Heisenberg, every bit helps.
Bryan Cranston is, rightly, at the top of the list for every possible role he could be cast for-- and if he wants Lex Luthor, it's surely all his. But the actor who was famous for years as the goofy dad on Malcolm in the Middle pulled off an incredible transition to become Walter White, who we then watched transform completely over the course of Breaking Bad. As he moves on from his career, does Cranston really want to take on yet another iconic bald bad guy role? If Cranston follows what seem to be a pattern of changing things up, he'll turn down Lex Luthor-- and maybe allow a hungry up-and-comer with talent to burn, like Corey Stoll, to step in.
Let us know in the comments who you want to see as Lex Luthor.
This poll is no longer available.
Your Daily Blend of Entertainment News
Staff Writer at CinemaBlend