Spike Lee Confirmed To Remake Oldboy, May Also Be Reviving Mookie For His Next Film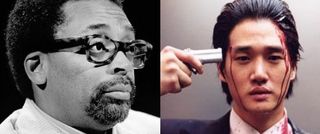 It was rumored not long ago, but after years of speculation and stops and starts, the American remake of Oldboy actually has a director attached, and it's Spike Lee. In a press release Mandate Pictures announced that Lee will direct the film, from a screenplay written by Mark Protosevich. That's pretty much all the information given in the press release, which doesn't even come with the token quote from Lee about how excited he is to make the picture.
Mandate has been attempting to adapt the Korean revenge classic Oldboy for American audiences since 2008, when they were teaming up with the dubious combination of Steven Spielberg and Will Smith but got cut off when they couldn't get the rights for the original manga the film was based on. They've been moving forward though, apparently, and now that they have the rights they've selected perhaps the most unconventional director possible to take the reins. What I love about them choosing Spike Lee isn't that it guarantees a good or bad adaptation of Park Chan-wook's original film, but one that's completely unique; there's no way Lee will turn in the generic American remake you would have feared from Spielberg and Smith. Even if his films aren't always stellar, they're always distinctive, and presumably Lee won't be aping Chan-wook's style but bringing something completely different to the table.
In other Spike Lee news, he tweeted today that he's going to work today on a more familiar kind of film for him, a drama set in Red Hook, Brooklyn about an Atlantan spending a summer there. Blackfilm heard from reliable sources that, for whatever reason, Lee will also be appearing in front of the camera, reviving his character Mookie from his iconic 1989 film, Do the Right Thing. Could Lee go from revisiting his most famous work to taking on one of his career's biggest challenges with an Oldboy remake? Will this guy ever stop surprising us? Apparently not, and that's exactly why I'm excited to see him tackle Oldboy, one of the most unpredictable thrillers ever made.
Your Daily Blend of Entertainment News
Staff Writer at CinemaBlend