Stuntman Seriously Injured On The Hangover 2 Set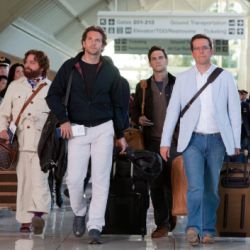 The Spider-Man Broadway musical has been making all the headlines for injuring its performers, but not to be outdone, The Hangover 2 has managed a major accident as well. According to Variety, Australian stunt man Scott McLean was seriously injured in a car accident that was part of a planned stunt involving a car and a truck. McLean was taken by ambulance to a Bangkok hospital, and has been put into a "medically induced coma" to help him speed up his recovery. Apparently the outlook is "positive" for his recovery.
Though the vast majority of people doing stunts have long and healthy careers in the movies, car-related stunts can be especially dangerous on movie sets. An extra was critically injured earlier this year on the set of Transformers: Dark of the Moon when a tow cable snapped and smashed through her car windshield, and camera technician Conway Wickliffe died while filming a car stunt in The Dark Knight in 2007. There's a reason these stunts look so impossible and dangerous in the movies-- they're done by professionals and even then they're dangerous. Drive safe, guys, and all the best to Scott McLean in his recovery.
Your Daily Blend of Entertainment News
Staff Writer at CinemaBlend