Summit Hires Newcomer To Adapt Storming Las Vegas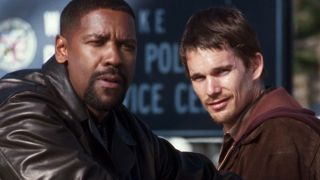 (Image credit: Warner Bros.)
Screenwriter Chuck MacLean has built some serious buzz in Hollywood by penning a string of promising spec scripts. So Summit Entertainment has entrusted the scribe to translate John Huddy's shocking crime tale Storming Las Vegas: How a Cuban-Born, Soviet-Trained Commando Took Down the Strip to the Tune of Five World Class Hotels, Three Armored Cars, and Millions of Dollars into a gritty thriller worthy of attached director/producer Antoine Fuqua (Training Day). Based on the real-life exploits of Cuba native Jose Vigoa, Storming Las Vegas follows the headline-snagging crime spree of incredibly crafty crook who pulled off a string of high-profile casino and armored car robberies that terrorized Sin City for 16 months in the late 1990s.
THR notes Summit acquired the rights to Huddy's book last summer. And with a street smart figure exploiting his idea of the American Dream through a brazen series of spectacular heists, it's easy to see why executive producers David Ready (Man of Ledge) and D. Constantine Conte (Conan the Barbarian) were drawn to the material. To keep it true to form, Huddy himself has also signed on to executive produce. Also, joining Fuqua on producing duties is Transformers' co-producer Lorenzo di Bonaventura. So, already, Storming Las Vegas has a solid team in place to make this a memorable action flick.
The wild card here is MacLean. His spec scripts got him a meeting with Summit, where he must have dazzled, but movie fans will be curious to see what this newcomer has up his sleeve. But while we wait for Storming Las Vegas to make its way through development, let's begin to speculate on who should star as the Cuban criminal mastermind pictured above? Vin Diesel? Demián Bichir? Dwayne Johnson? Weigh in below.
Your Daily Blend of Entertainment News
Staff writer at CinemaBlend.