Sundance Review: Elizabeth Olsen Elevates Horror Thriller Silent House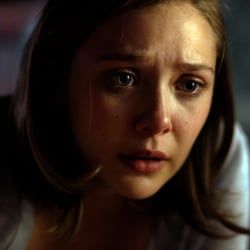 I don't do well with horror movies-- even the most minor jump scares wig me out, and tension of any kind I can barely abide-- so I'm really not sure why I sought out Silent House, the buzzed-about Sundance thriller that boasts to have been filmed in a single take, a la Alfred Hitchcock's Rope (which, like Silent House, had masked cuts all the same). It's a remake of a Uruguayan film that debuted at Cannes this year, and though both feature the single-take gimmick, the filmmakers are eager to distance their film from the original-- because, hey, who likes American horror remakes anyway?
The American Silent House has a much bigger ace up its sleeve than the filmmaking gimmick anyway in the form of Elizabeth Olsen, the actress starring in two Sundance films this year (the other, Martha Marcy May Marlene, I'll be reviewing shortly) and basking in the kind of buzz that made Carey Mulligan and Jennifer Lawrence . Olsen isn't just the star of Silent House but the complete life force; her wide, expressive face fills nearly every frame, her voice and pulse building the film's rhythm and drive. The camera operator follows Olsen's character Sarah up and down the steps of this spooky house, boarded windows and doors blocking her exit and footsteps following her around seemingly every corner. For a while she's accompanied by her father (Adam Trese) and overly familiar uncle (Eric Sheffer Stevens), but we all know the young girl in the white tank top isn't going to be protected by others for long.
Directors Chris Kentis and Laura Lau are deliberately playing with all the haunted house cliches, from jump scares-- there are plenty, and they never get less frightening-- to the escape that turns out to be just another trap. It's not that they transcend the genre, exactly, but the unwavering camera shots keep the tension going well beyond where it would have in a normal film, and Olsen's constant terror bleeds through to the audience with the camera keeping constant vigil. It gets a little exhausting to watch her cry and scream constantly, and it's a shame the directors don't give Olsen a broader emotional range to play beyond "scared to death," but her fully committed performance makes it compelling all the same.
For as limited as the story is, Silent House feels a little unwieldy at times, whether getting bogged down in mundane actions as it follows the protagonist or engaging in a little over-the-counter psychology during the "shocking" final twist. A movie this contained ought to run fleetly and with precision, but though it sustains its tension and a sense of wonder thanks to the fluid camera, it doesn't engage much beyond being a genuinely frightening genre exercise. Still, tension junkies will certainly get what they're looking for, and Olsen can celebrate being a rising young actress who dabbled in horror while displaying remarkable acting chops at the same time. Silent House is still looking for a distributor here at Sundance, but it seems a fair bet to say you'll be seeing it out there soon enough.
Staff Writer at CinemaBlend
Your Daily Blend of Entertainment News
Thank you for signing up to CinemaBlend. You will receive a verification email shortly.
There was a problem. Please refresh the page and try again.