Sundance Video Blog #1: Wish You Were Here Reviewed And Kicking Off The Fest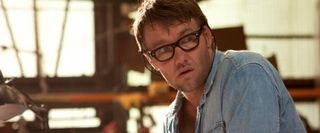 Welcome to the first of what will be many, many dispatches from the Sundance Film Festival! Park City is already packed to the gills with press, talent, festivalgoers and tons of volunteers wearing the kind of bright-orange gear you usually see on hunters-- which might actually be helpful this year, since it's been raining and/or snowing nonstop since we landed. The first press screening of the festival usually takes place at the Yarrow Hotel theater on Thursday night, and since there's almost nothing going on at that point, you can see virtually everyone you know at the festival in one fell swoop. My seating section for the movie, Wish You Were Here, included the writers or webmasters for Ain't It Cool, Hitfix, Badass Digest, Hollywood.com, Slashfilm, First Showing, Movies.com and The Playlist. As I joked on twitter, the Senate could have taken advantage and passed SOPA while we weren't looking.
Wish You Were Here, which stars Aussie breakouts like Joel Edgerton and Teresa Palmer, is another modern noir-ish thriller from the same collective of filmmakers who brought you Animal Kingdom and The Square. It's the first feature from Kieran Darcy-Smith, but the film's most impressive accomplishment is probably by Felicity Price, who both co-wrote the film and plays the central figure of a wife coping with the secrets her husband is keeping after a trip they take to Cambodia ends terribly. Joel Edgerton does a lot of the visible suffering as the man with an awful secret, but Price, having done nothing wrong, bears a lot of the film's emotional weight with a tucked-in performance that grows more powerful as the film goes on. Even when the mystery unravels into something less interesting than what it was when it started, Price and Edgerton's portrayal of a marriage on the brink carries real weight. Below you can see the video review Matt Patches and I recorded, along with what we anticipate will be today's festival highlights.
Keep checking back to this page for all of my ongoing Sundance coverage, and for more from Matt Patches, you can check out his coverage at Hollywood.com. We'll have much more to tell you very soon!
Staff Writer at CinemaBlend
Your Daily Blend of Entertainment News
Thank you for signing up to CinemaBlend. You will receive a verification email shortly.
There was a problem. Please refresh the page and try again.