Tanner Hall Trailer: Rooney Mara's First Film Finally Gets Released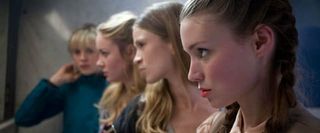 Though she appeared to come out of nowhere to steal the opening scene of The Social Network and then get cast as Lisbeth Salander in David Fincher's upcoming The Girl with the Dragon Tattoo, Rooney Mara spent some time paying her dues in movies nobody saw. She was the star of the 2010 A Nightmare on Elm Street remake, for one thing, but also had two films premiere at the Toronto International Film Festival in 2009 that then seemed to sink out of sight-- The Winning Season, a basketball drama with Sam Rockwell that eventually opened to little fanfare last year, and Tanner Hall, a boarding school drama.
Now, bolstered by Mara's newfound fame, Tanner Hall is finally getting a release and a trailer to go with it. It premiered at Vulture and you can also take a look at it below.
The background story behind the film seems a lot more interesting than the movie itself, which seems like a rote coming-of-age story lifted from every other boarding school drama and maybe an episode of The Facts of Life. Mara, the product of a family tree that includes the owners of both the Pittsburgh Steelers and the New York Giants, made the film for directors Tatiana von Furstenberg-- daughter of Diane, the designer-- and Francesca Gregorini--daughter of former Bond girl Barbara Bach, and stepdaughter of Ringo Starr. That's a whole lot of royalty, both real and cultural, going into the production, which I guess makes sense for a movie set at at tony New England boarding school. Tanner Hall will open September 9, a solid two years after its Toronto premiere; if this harsh Variety< review is any indication, there's a reason the movie has languished for two years. But if you're going to be a completist on what will inevitably be the giant career of Rooney Mara, you may as well start early and knock this one out of the way.
Your Daily Blend of Entertainment News
Staff Writer at CinemaBlend