Joaquin Phoenix And Rooney Mara Name Their Child After River Phoenix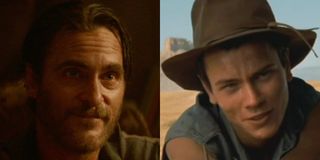 The birth of a child is a joyous occasion, especially when a couple is welcoming their first baby, and this is the special moment actors Joaquin Phoenix and Rooney Mara are feeling right now. This past spring, it was reported that the two were expecting, and we've now learned that Mara has given birth to a baby boy. Once the initial news dropped, many probably wondered what the couple would name their child and, according to one of Phoenix's collaborators, they've named him after the actor's late brother, River Phoenix.
At the recent Zurich film festival, director Victor Kossakovsky screened his latest documentary, Gunda, which Joaquin Phoenix executive produced. While speaking at the festival (via The Guardian), Kossakovsky was asked about Phoenix's involvement, he mentioned that the actor had just welcomed "a beautiful son named River."
River Phoenix was a staple of cinema from the mid-'80s to the early '90s, starring in notable films like Stand By Me, Indiana Jones and the Last Crusade and My Own Private Idaho. He also received an Academy Award nod for Best Supporting Actor for his role in Running on Empty. Phoenix died of a drug overdose at the age of 23 in October 1993. His final film, Dark Blood, went unfinished for nearly two decades before it was released in 2012.
It's sweet to see that Joaquin Phoenix and Rooney Mara chose to pay tribute to the late talent in this way. Phoenix has occasionally spoken how close he was with his brother and has paid tribute to him a few times.
Joaquin Phoenix, a mostly private person, typically prefers not to speak too much about his brother's death. Phoenix's Gladiator co-star, Russell Crowe, recently recalled that while making the film, Phoenix would still get numerous questions regarding his late sibling. Crowe also mentioned that both he and Phoenix became quite close while making the movie, with Crowe feeling particularly touched when Phoenix once referred to him in a brotherly way during a press conference.
River Phoenix was known for taking on complex roles that greatly varied from one another, and Joaquin Phoenix opted to take a similar approach when it came to his career path. Phoenix's body of work is a diverse one that includes stand-out performances in films like Signs, Walk the Line, We Own the Night and The Master. And of course, he recently dipped his toe into the world of commercial filmmaking with Todd Phillips' Joker, which earned him critical praise and an Academy Award for Best Actor.
River Phoenix is certainly missed among cinephiles, and we'll always ponder what other art he may have contributed to film and television. Though his legacy certainly lives on through his body of work and now, his new namesake.
Keep it here at CinemaBlend for more news from the world of film and TV.
Covering superheroes, sci-fi, comedy, and almost anything else in film and TV. I eat more pizza than the Teenage Mutant Ninja Turtles.