Is Terminator: Genisys Going To Make Arnold Get Naked Again?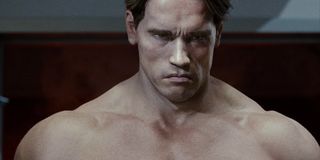 If you've still got it flaunt it and, at 67-years-old, few can deny that Arnold Schwarzenegger's still got it. The muscle-strapped movie actor made quite the impression back in 1984 when he burst onto screens in a flash of lightning, as naked as the day he was born, or that day he fathered a secret love child. The man was the perfect specimen of masculine brawn, a freakin' former Mr. Olympia, which made for the perfect Terminator casting in James Cameron's magnum opus. Now, as we eagerly await the new reboot/sequel, Terminator: Genisys, directed by Thor helmer Alan Taylor, we couldn't be happier hearing that once again, Arnie will be showing a whole lotta skin. Kinda.
In Entertainment Weekly's new cover story, the magazine reports that Genisys begins in 2029 -- hence why there are scenes where the Terminator looks really, really old -- but at some point revisits the first movie's storyline. That original Terminator portrayed Arnie's T-800 machine as an antagonist, hunting down a young Sarah Connor, then played by Linda Hamilton. Now, in the upcoming movie, Sarah Connor will be played by every geek's fantasy, Game of Throne's star Emilia Clarke and her gripping O-Face, who Alan Taylor believes will appease both new and old fans alike.
As for that oh-so memorable original Terminator arrival, the filmmakers are planning on identically recreating the famous 1984 scene, when the T-800 lands at L.A.'s Griffith Observatory. Schwarzenegger was 36 years old back then, so to mimic that sprightly hard bod, the special-effects team has created what they call "synthespian," or synthetic thespian, using a body double plus scans of Schwarz¬enegger's face from the first film merged with what his face looks like now. The result will be a facemashed throwback of a fictional Arnold 2.0.
Unless you've understandably neuralyzed the memory from your brain, this won't be the first time Schwarzenegger has been CGI'd in Terminator form. In the poorly-received 2009 movie, Salvation, he was digitally inserted as a cameo on a Terminator production line. Thankfully in the new movie he has a much meatier role, but should we be worried about Genisys's new "synthespian" level technology? That's some Skynet level of advancement right there.
With all that said, the filmmaker's have still yet to explain why, in the future, they figure out how to transport someone through time, but don't know how to transport clothes as well? Luckily for us, College Humour previously posed the most fitting explanation.
Maybe Taylor and co. will concoct an even better explanation for the technological glitch, but they at least have until Terminator: Genisys' July 1, 2015 release date to get creative.
Your Daily Blend of Entertainment News
Thank you for signing up to CinemaBlend. You will receive a verification email shortly.
There was a problem. Please refresh the page and try again.