Tree Of Life Trailer: Unless You Love, Your Life Will Flash By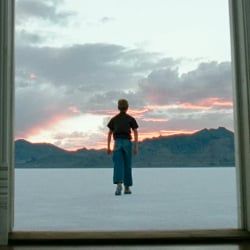 The first trailer for Terrence Malick's new film Tree of Life has finally gone online at Apple.com, and you can also watch it embedded in the trailer below (though, as with most things Malick, it really looks best in HD). There's no sign of the dinosaurs rumored to be included in the film, but we do get a good sense of what looks like a story about two generations of a family-- a father raising his children stiffly and harshly in the 1950s or so (Brad Pitt) and the son, now grown (Sean Penn) coping with the legacy of his parents.
It looks beautiful, of course, though with all the cosmic imagery interspersed with glimpses of the typical American childhood, it's a little hard to tell where this might go in the end. And yet, did I mention how gorgeous it is? The Americana iconography looks as stunning as anything Malick has previously made-- even though it looks like there's an unhappy childhood lurking beneath the dusk light and well-worn T-shirts, it's still a place I want to live in. The film also stars Jessica Chastain as the mother-- you haven't heard of her much yet, but she's snagging roles right and left, including one just yesterday in John Hillcoat's The Wettest County in the World-- it's worth seeing the trailer if nothing but for getting a look at someone who's apparently going to be a big star.
Check out the trailer below, and look for more on Tree of Life very, very soon-- it's expected to premiere at Sundance next month.
To coincide with the release of the trailer, Apple has also released the first poster for the film, which takes advantage of what is easily the most beautiful shot in the trailer - Brad Pitt holding the baby's foot. Check it out below.
Your Daily Blend of Entertainment News
Staff Writer at CinemaBlend