True Blood's Skarsgard Boards Peter Berg's Battleship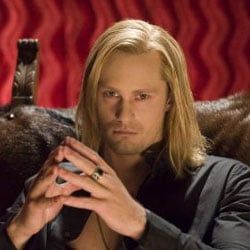 True Blood's Alexander Skarsgard has been cast in Peter Berg's Battleship, based on the board game of the same name. Skarsgard will play a naval officer who's the idolized, by-the-book brother of Taylor Kitsch's character, which is usually Hollywood-Action-Movie-Speak for "gets killed, and must be avenged."
I was firmly in the "Skarsgard for Thor" camp, but this sounds like it could actually be a crazy-fun summer movie. And of course, it sets up other game favorites from the Milton Bradley collection: George Clooney in Operation! Robin Williams in Monopoly! Charlie Sheen in Sorry!
That last one was just mean.
It's worth noting, however--the last time a Skarsgard played a boat captain...we got Mamma Mia. Just sayin'.
Your Daily Blend of Entertainment News