Two Studios Totally Dominated The Summer Box Office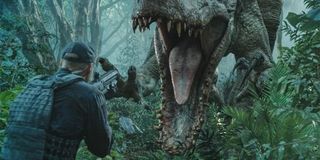 This summer has been filled with blockbuster spectacle, which audiences have gone to see in their droves. Along the way, this has led to a number of box office records being broken. But rather than this success being shared equally amongst the studios, it turns out that two have profited over all the others, as Universal and Disney account for 61 percent of the total ticket sales of the summer.
According to Rentrack, via The Wrap, Disney and Universal have completely pummelled their rivals at the box office. Basically, if this was a fight, Disney and Universal would be Ronda Rousey and Floyd Mayweather, while Lionsgate, Paramount, Sony, Fox, and Warner Bros. would be Riley, Fear, Sadness, Joy, and Disgust from Inside Out.
It's actually been a pretty impressive summer for box office figures. The North American haul is currently on track to hit $4.4 billion by Labor Day, which means that it's around $300 million better off than this time last year. And while that should be cause for celebration at studios across Tinseltown, only Universal and Disney will be jumping for joy.
Let's break this down for you. Disney and Universal's domination can be summed up by the fact that the two studios account for eight of the 10 highest grossing movies of the year domestically.
Box Office Mojo's figures confirm that Universal's Jurassic World sits at the top of this list, while the studio also has 3rd place Furious 7, 5th place Minions, 7th place Pitch Perfect 2, and 9th place Fifty Shades Of Grey. Meanwhile Disney's Avengers: Age Of Ultron, Inside Out, and Cinderella are placed 2nd, 4th, and 6th, respectively. Paramount's The SpongeBob Movie: Sponge Out Of Water was 10th and Fox's Home was 8th.
Want it laid out to you even clearer? Then just take a look at the percentage breakdown of how each studio fared this summer:
Out of Disney and Universal, the latter studio is the one that has prospered the most though. That's because it has so far racked up receipts totalling $2.04 billion domestically, a total that it reached in record time. It's only going to get better for the studio, too, because while Furious 7 and Jurassic World have already sauntered past $1 billion at the box office, Minions is expected to join that club when it opens in China in a few weeks.
In fact, Furious 7 and Jurassic World's totals, which were way higher than anyone at the studio probably even dreamed of, now means that they're the 5th and 3rd highest grossing films of all time. And as most of these studios' top performers are part of franchises, this means that they're almost certainly going to dominate for years to come too. Who said originality was dead? Oh wait: everyone.
Your Daily Blend of Entertainment News
Thank you for signing up to CinemaBlend. You will receive a verification email shortly.
There was a problem. Please refresh the page and try again.