UPDATE: Has Rescue Me Actor Daniel Sunjata Been Cast In The Dark Knight Rises?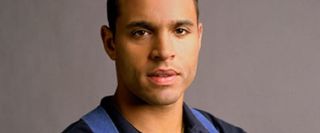 UPDATE: Variety has received a bit more information both about Sunjata's involvement and has also learned about two other actors joining the Christopher Nolan film. According to the site, the Rescue Me star will play a special forces operative; actor Diego Klattenhoff will play a "rookie cop," and Burn Gorman (Layer Cake, Cemetery Junction) will play an unspecified supporting role.
Even though there's been a lot of legitimate news lately about The Dark Knight Rises-- Josh Pence signing on as young Ra's Al Ghul, the production moving to Pittsburgh-- there's still time for some iffy rumors to pop up as well. Slashfilm dug up a password-protected post at The Tracking Board, a Hollywood trade site, that says Daniel Sunjata has joined the cast, and "is rumored to play an important character to the story."
They're not saying who posted this as a fact, where that person might have gotten their information, or speculating on how likely it is that any casting information has slipped out given the airtight security among all the people who surround director Christopher Nolan as he puts The Dark Knight Rises together. Basically, treat this as a very big rumor until further notice.
As for Sunjata, you might know him for a recent stint on Grey's Anatomy a Nurse Eli, a long-running role on Rescue Me as Franco Rivera, or for roles in the chick flicks Ghosts of Girlfriends Past and The Devil Wears Prada. If you're like me-- and therefore probably not all that interested in Batman casting rumors, so you're probably not-- you remember him clearly from the Sex and the City episode "Anchors Away," when Carrie dances with a young sailor named Louis Leroy at a Fleet Week party. He's Louis! From Louisiana! OK, am I the only person with a distinct memory of this? And who's still kind of annoyed they used the same joke for Jennifer Hudson's character, Louise from St. Louis, in the first movie?
Add this to the pile of Dark Knight Rises rumors you've got festering somewhere in your garage, and we'll let you know as soon as there's some actual concrete information to work with. Anyone want to talk about Sex and the City in the comments instead?
Your Daily Blend of Entertainment News
Staff Writer at CinemaBlend