Updated! Terminator Franchise Sold To A Hedge-Fund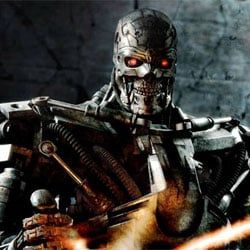 For anyone who hoped that, after Terminator Salvation bottomed the franchise out, things cold only get better for the Terminator universe, there's bad news. It's not happening any time soon. Halcyon, the company that owned the rights to Terminator, has had them up for sale and today after a fierce bidding war they settled on a buyer. It's not Sony or Lionsgate, both of whom were extremely interested in acquiring the property and were willing to pay massive amounts of money to own it. Instead, according to Deadline it's a company called Pacificor.
Pacificor is not a media company or a movie studio. They're a hedge-fund. You know what a hedge-fund is right? You've probably heard them blamed for some of the recent economic collapse. It's kind of like Skynet, but made of people. A hedge-fund is a group of bankers and rich dudes who sit around thinking of new ways to take your money. This particular hedge-fund is now depending on recycled future robots to get it out of your wallet. Strangely, Pacificor was also partially to blame for the financial trouble the Terminator franchise is already in, and had a hand in pushing Halcyon Holding Corp into the bankruptcy which forced it to sell Terminator in the first place. I wonder if this was just one of those crazy coincidences that always seem to happen whenever millions of dollars are involved? I'm sure it is.
So what does this mean for Terminator? Probably nothing good. Pacificor paid in excess of $29.5 million for the rights to the Terminator franchise and they're going to want some of that back. How will they get it back? Since they're not a movie studio and thus lack the ability to develop it themselves, perhaps we're headed for yet another bidding war in which they line up potential suitors interested in borrowing their property for another shot at the movies, or maybe they'll simply go to China and have them crank out a series of cheap, lead-based toys. It's all about money and when it's all about money, it becomes pretty unlikely that Terminator's future is going to get any better.
UPDATE! As expected, now that Pacificor is in control, they're looking for someone to develop the property since they have no idea how to make a movie. Word is that Lionsgate and Sony are now in negotiations with Pacificor to take joint control of the Terminator franchise.
Your Daily Blend of Entertainment News