Vertigo Dethrones Citizen Kane In Once-A-Decade Sight & Sound Critic Poll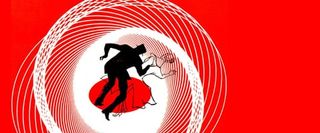 Top 10 lists are everywhere in movie writing-- we write tons of them all the time, when it's time to go over the year in review or just rank the best Batman villains. But there's one top 10 list that towers above them all, both in the prestige of those voting and how much people pay attention, and that's the once-a-decade list assembled by Sight and Sound Magazine. They poll 846 critics and 358 and ask them to rank the 10 best movies of all time; today the first poll since 2012 was finally announced, and once again, there's not a movie on either list made after 1980. Here are the lists, first from the critics, then from the directors.
This is the first time since 1952 that Citizen Kane hasn't topped both lists, and it's fascinating not just to see it dethroned, but by two different films-- and films held in very different regard by critics and directors, at that. Three new films made the critics' list this year-- John Ford's Western classic The Searchers, Dziga Vertov's 1929 experimental documentary Man with a Movie Camera, and The Passion of Joan of Arc, another silent film. They knocked out The Godfather, Singin' in the Rain and Battleship Potemkin (all that via Criticwire).
Just like with any top 10 list, you're welcome to question and debate this one-- I in particular have never glommed on to Vertigo the way many people do, and have a hard time understanding why it finally managed to knock out Citizen Kane. Let us know in the comments what you think of the list, and if it inspires you to check out any of the films you've missed-- I've never seen Andrei Tarkovsky's The Mirror and know almost nothing about it, but I'm definitely adding it to the list today.
Your Daily Blend of Entertainment News
Staff Writer at CinemaBlend
Your Daily Blend of Entertainment News
Thank you for signing up to CinemaBlend. You will receive a verification email shortly.
There was a problem. Please refresh the page and try again.