Video Interview: Don't Be Afraid Of The Dark's Guillermo Del Toro And Katie Holmes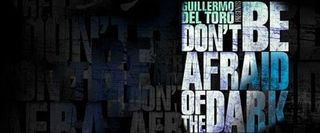 You know when you misplace something and someone tells you, "It couldn't have just walked off on its own?" Well, thanks to Don't Be Afraid of the Dark, you've got a culprit to point a finger at; they may claim they just want to be your friends, but this movie's little monsters also have their eyes on your razors, clothing and your children.
Alex (Guy Pearce) is a struggling architect trying to renovate the old Blackwood Manor to revitalize his career. With his interior decorator and live-in girlfriend, Kim (Katie Holmes), by his side, he calls the location home and works on it incessantly. Things get complicated when his ex-wife decides it's time for their daughter, Sally (Bailee Madison), to go and live with daddy. Alex thinks he's child-proofed the house by giving his daughter the quintessential little girl's dream room, but with little to do, Sally resorts to exploring and winds up discovering that they're not the only ones living in the Blackwood Manor and that those other residents are viciously desperate to be her friends.
In honor of Don't Be Afraid of the Dark's August 26th release, writer-producer Guillermo del Toro and star Katie Holmes sat down to talk about the film at a roundtable interview. The session was packed with goods from the set including Holmes' experience working with Madison, del Toro's effort to bring the film's creatures to life and much more. Check it all out for yourself in the video interview below and be sure to keep an eye out for those spoiler alerts, as they're very much there for a reason.
Your Daily Blend of Entertainment News
Staff Writer for CinemaBlend.
Your Daily Blend of Entertainment News
Thank you for signing up to CinemaBlend. You will receive a verification email shortly.
There was a problem. Please refresh the page and try again.