Watch Keira Knightley Strip Down In Chanel Ad Directed By Joe Wright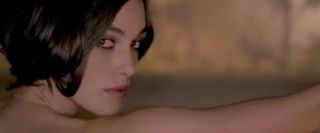 Keira Knightley isn't in Joe Wright's new film Hanna, but the actress is planning to team up again with her Atonement and Pride & Prejudice director for a new adaptation of Anna Karenina. And even before they get that project going, the two have collaborated and made some money off high fashion at the same time. Knightley is the star of a new three-minute ad for Chanel Coco Mademoiselle perfume, and to direct it she brought in her old friend Wright, who's never had any trouble photographing beautiful women in glamorous locations.
You can watch the short film below, which features the usual perfume ad nonsense of close-ups on Knightleys face and collarbones through gauzy curtains, but also includes the striking sight of Knightley, in a beige catsuit to match the weathered Paris streets, riding around on an impeccable Ducati. It's fluffy and somewhat ridiculous, sure, but you probably won't have a more glamorous three minutes today, so live it up.
Staff Writer at CinemaBlend
Your Daily Blend of Entertainment News
Thank you for signing up to CinemaBlend. You will receive a verification email shortly.
There was a problem. Please refresh the page and try again.