Watch These Kids Spend Their Lives Recreating Raiders Of The Lost Ark Shot For Shot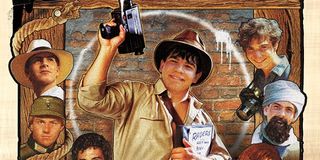 Movies have the power to change peoples' lives, and this proved to be all too true when two 11-year-old boys saw Raiders of the Lost Ark. Cut to the present day. These kids are now in their early 40s, and they've spent a good chunk of their lives recreating the film shot-for-shot in what they call "The Greatest Fan Film Ever Made." The entire making-of process of this ambitious endeavor has been documented in a new film called Raiders!, and the trailer is now online for you to preview.
Raiders! is set to premiere at this year's SXSW in Austin, and this first teaser was released to preview what's coming to the film festival. It's not much, but watching snippets of Chris Strompolos and Eric Zala's tumultuous journey to remake Raiders of the Lost Ark is reminding us of how great an impact this film had. Practically every little boy wanted to be Harrison Ford's Indy after watching it for the first time, but Chris actually became him.
The process of filming the fan movie took seven years. As their cinematographer Jason Lamb says in the trailer, "We kinda missed out on our childhood, but the whole time we realized we were filming our childhood." Unfortunately, a girl got in between the two friends and they stopped filming, leaving one crucial scene to be recreated: the airplane scene. This is the moment when Indy is grappling with the hulking, shirtless Nazi on an airplane hanger and his attacker gets shredded to bits by the propeller. Grim stuff for 11-year-olds, if you think about it. It was during the duo's "break-up," though, that director Eli Roth obtained a copy of the kid-made tribute film and was blown away by it. He passed it along to Harry Knowles, who helped blow it up even more. Before anyone knew it, the clip was earning praise from Steven Spielberg himself.
Now, after 25 years, Chris and Eric have reunited to film the final scene and finally complete their childhood dream. Raiders! attempts to shine a spotlight on this process, but are these the same boys that were awestruck to see Indy sprint away from a careening boulder? We'll find out when the documentary hits SXSW on March 14. By the looks of the trailer, there were a few bumps in the road.
Their product, Raiders of the Lost Ark: The Adaptation, is one of the more heartfelt and uplifting stories of fan films. Perhaps Saban should take a nod from them before they sling even further copyright infringement claims against Joseph Kahn's Power/Rangers fan film.
Your Daily Blend of Entertainment News