Watch The Mash-Up Trailer For Prometheus Meets Wall-E: It's WALL-ETHEUS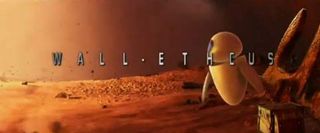 Trailer mash-ups are old news. They are older than old news. Yet, every now and then one still pops up that makes you stop, watch and have to admit, "That was rad." At the end of December, a case of mash-up magic was released by editor Brad Hansen on his YouTube page MovieMaestroTen and it was called "The Lion King Rises." As you can imagine, it combined the Disney classic The Lion King with the newly released trailer for The Dark Knight Rises. Now Hansen is back with another impeccably edited trailer mash, this time using probably the most buzzed about preview, short of TDKR: Ridley Scott's Prometheus.
In a stroke of genius, Hansen decided to combine the new space exploration horror flick with Pixar's beloved Wall-E. While the two films couldn't be further apart tonally, the visuals selected from the animated gem work so unbelievably well with the audio from Prometheus that it actually creates a whole new film that I would totally pay money to see. It ratchets up the intensity of Wall-E's heroic journey and makes the film seem like an action-thriller rather than the whimsically romantic narrative actually found in the Academy Award nominated film from Andrew Stanton. Take a look at "WALL-ETHEUS."
What's not to love? Right from the opening typesetting I was entranced. The sweeping visuals, the pounding score - a cross between Danny Elfman's Wolf Suite and Hans Zimmer's Inception - and the awesome title cards had me jacked right up to see this film... or at least revisit the Prometheus trailer and rewatch Wall-E.
"WALL-ETHEUS" will hit theaters never, sadly, but you will be able to catch Ridley Scott's Prometheus on June 8th.
Your Daily Blend of Entertainment News
Thank you for signing up to CinemaBlend. You will receive a verification email shortly.
There was a problem. Please refresh the page and try again.