Watch More Of The Star-Studded Beastie Boys Short Fight For Your Right Revisited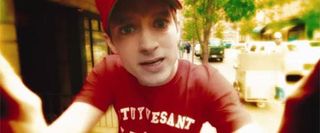 Last week we showed you the trailer, now we have the first five minutes of what is surely the most celebrity-filled short film produced in the last decade. As a bonus, so far anyway, it's also actually kind of good.
The clip embedded below is from the Beastie Boys, a short included on their new album and directed by Adam Yauch. It stars Elijah Wood, Seth Rogen, and Danny McBride as younger versions of the Beasties and Will Ferrell, John C. Reilly, and Jack Black as their older selves, sent back in time via DeLorean. Those six A-listers are just the start of the celebrity appearances in this thing though. Watch the first five minutes of it embedded below, and start counting stars:
How many celebrity cameos did you spot? Here's who I saw in the video:
The entire short is on the Beastie Boys new album Hot Sauce Committee, Part Two, due in stores May 3rd.
Your Daily Blend of Entertainment News
Thank you for signing up to CinemaBlend. You will receive a verification email shortly.
There was a problem. Please refresh the page and try again.