Step Brothers' Famous Bathroom Scene Almost Included A Hilarious Murder Mystery Improv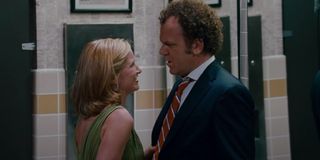 Kathryn Hahn may have shined as Agatha Harkness earlier this year in WandaVision, but it's just one of the many roles she's knocked out of the proverbial park over the years. For example, Hahn was hilarious as Alice Huff in 2008's Step Brothers, where she and John C. Reilly's Dale Doback became embroiled in an intense, yet oh so odd affair. But in the midst of acting out this sexual passion, Hahn and Reilly also included a hilarious murder mystery improv scenario.
Naturally Step Brothers was one of the many movies and TV shows that Kathryn Hahn went over while breaking her career with Vanity Fair, and here's what she said about what acting opposite John C. Reilly was like in the Adam McKay-helmed film:
In case it's been a while since you've seen Step Brothers (or on the off chance you've never seen the comedy movie that also starred Will Ferrell, Mary Steenburgen, Richard Jenkins and Adam Scott), among the many places that Kathryn Hahn and John C. Reilly's characters… shall we say, rendezvoused was in the men's bathroom at a restaurant. But in addition to sexual shenanigans, Hahn and Reilly also acted out a situation where their characters shockingly killed someone in the bathroom and covered it up. This wasn't scripted for the scene, they just came up with it on the spot.
None of this ended up in Step Brothers' final cut, but I have so many questions. Who was this person Alice and Dale killed? Did they murder this individual because they didn't want their affair to leak back to their families, or is it because Alice was actually one of the country's most dangerous unidentified serial killers? How did they cover up the murder quickly enough without attracting attention? It's safe to say that Kathryn Hahn and John C. Reilly didn't flesh out this scenario with this much depth, but at the very least, it'd be nice to watch footage of how all this played out.
Kathryn Hahn and John C. Reilly's dynamic was one of the many ways that Step Brothers delivered the laughs in 2008, and while the movie was met with mixed reception among professional critics at the time, the fact that it's still frequently being talked about over a decade later proves it's collected a big fanbase. Unfortunately for those of you who'd like to see what Brennan Huff and Dale Doback are up to nowadays, there hasn't been any movement on making Step Brothers 2 a reality, although perhaps there will come a day where Will Ferrell and John C. Reilly are finally game to check back in with these characters.
As for Kathryn Hahn's professional endeavors, she can be heard later this year as Ericka Van Helsing in Hotel Transylvania: Transformia, and she's also joined the cast of Knives Out 2. Those of you curious about what other movies are coming out later this year should scan through our 2021 release schedule.
Your Daily Blend of Entertainment News
Connoisseur of Marvel, DC, Star Wars, John Wick, MonsterVerse and Doctor Who lore. He's aware he looks like Harry Potter and Clark Kent.