Watch Topher Grace Re-Enact BTTF, Ghostbusters And More In This Take Me Home Tonight Video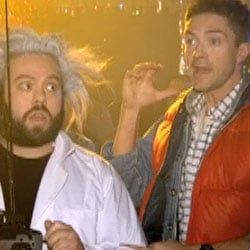 Take Me Home Tonight is not a parody movie, in any sense. Instead it's a period comedy set in 1988 starring Topher Grace, Anna Faris, Teresa Palmer, and Dan Fogler celebrating the last night of their youth. It's definitely not a parody movie, but the following video may make you wish it was.
We've just gotten our hands on a Take Me Home Tonight music video, in which the cast hangs out in a club rocking out, only to decide that instead of dancing they should re-enact the most iconic moments of nearly all the most iconic movies of the 80s right there on the dance floor. The video is less than four minutes long but in that time they manage rather accurately to pull off all the most iconic and identifiable scenes from more than thirty movies. Include in the sequence is a pretty spot on Michael J. Fox impression by Topher Grace and cameos by ALF and Michael Biehn.
You've got to see this. Watch and see how many movies you can name:
There's a chance this may end up in the end credits of Take Me Home Tonight when it shows up in theaters on March 4th. It's a good time, seems like a smart move to me.
In the meantime, how many movies being parodied did you recognize? Here's a list of the film's I spotted while watching:
Catch one I missed? Add it to the list using the comments section below.
Your Daily Blend of Entertainment News
Thank you for signing up to CinemaBlend. You will receive a verification email shortly.
There was a problem. Please refresh the page and try again.