We're About To Get Terminator: Genisys Footage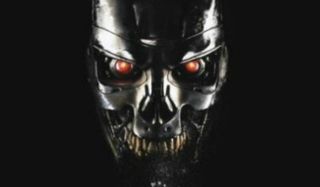 We are now just under two days away from the first footage for Terminator: Genisys being released. An ominous countdown has premiered on the official website for the upcoming fifth installment to the beloved sci-fi series, and they've a rather delightful motion poster for the film has also been uploaded too.
There is simply all kinds of yes going on in this living one sheet. Not only do we get to see one of the Terminator's skeletons disintegrate away but there's the return of Brad Fiedel's pounding but still mesmeric theme music too. Also the fact that, when you look at it on the Terminator website, it unearths a countdown to what we can only assume is the first footage for the film is something that we can all get rather excited about. Other than that, at the moment, the official website for the film is pretty much completely empty. But that should change drastically in the coming days, weeks and months as Paramount sets about reminding the world why they love the Terminator franchise so much.
At the moment Terminator: Genisys is shaping up rather nicely. The hiring of Alan Taylor, whose last film was the thrilling Thor: The Dark World, looks like it was a good move by the studio. Meanwhile the addition of Emilia Clarke, Jason Clark, Jain Courtney, Matt Smith, Lee Byung-hun, Dayo Okeiyi, and J.K. Simmons will hopefully inject a bit more energy and enthusiasm to the series following the underwhelming Terminator Salvation. However the main reason to be overjoyed about the impending first glimpse at Terminator: Genisys is that we'll get to see Arnold Schwarzenegger as the character that he will forever be associated with once again. The only thing that could have Terminator: Genisys more appealing is if James Cameron himself was involved in the film.
Terminator 3: Rise of the Machines and Terminator Salvation both failed to build on the humungous success of 1984's The Terminator and 1991's Terminator 2: Judgement Day. Rise Of The Machines' tone was way too lightweight while Salvation's script was all over the place. Plus the latter was overwhelmed by production problems involving its star Christian Bale and the omission of Schwarzenegger was a huge error too. Both also had PG-13 ratings to appeal to wider audiences, which diluted down the violence we were used to seeing in the franchise. Terminator: Genisys also has this rating, and while the raw ingredients are there for it to succeed there is an inkling that it might be scuppered by this decision like its predecessors.
Terminator: Genisys will arrive in theaters July 1, 2015. Check out some promotional photos for the film here.