Weekend Box Office - America Tells Earth Day To Go Global Warm Itself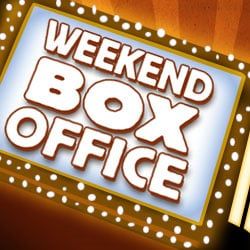 After a thrilling, record-breaking start, April has dwindled off into the realm of obscurity. Three new releases this weekend failed to make major blips on the box office radar, leaving the dregs of the last month to continue floating along the top.
Audiences confirmed their general disinterest in last week's narrow number one winner Kick Ass. In a weekend when most movies only lost around 40% from the previous week, it slipped over 50%, dropping from number one to number five, once again suggesting it's title refers to what the box office is doing to it, not vice versa.
The big loser this weekend was Disney's traditional Earth Day release. Oceans, which ran up a mammoth budget of $80 million, failed to make waves with American audiences, banking only $6 million. Fortunately for the film, international audiences found its environmentally touching theme much more sympathetic, lending an additional $54 million in sales. That still leaves the movie hurting for profit, a sad condition for a film aiming to bring attention to a needy cause, not become one itself.
Jennifer Lopez' first new movie in three years failed to impress. The Back Up Plan came in second place with only $12 million against its $35 million budget. That left room for five week old How To Train Your Dragon to slip back into the number one spot. And aptly titled The Losers, which ran a tab of $25 million, opened to the depressing tune of $9 million.
For the full weekend top ten details, check out the chart below:
1.

How to Train Your Dragon
$15,025,000 -
Total: $178,021,000
LW: 2 WR: 5
THTRS: 3,665
2.

The Back-Up Plan
$12,250,000 -
Total: $12,250,000
LW: N WR: 1
THTRS: 3,280
3.

Date Night
$10,600,000 -
Total: $63,471,000
LW: 3 WR: 3
THTRS: 3,294
4.

The Losers
$9,605,000 -
Total: $9,605,000
LW: N WR: 1
THTRS: 2,936
5.

Kick-Ass
$9,500,000 -
Total: $34,870,000
LW: 1 WR: 2
THTRS: 3,065
6.

Clash of the Titans (2010)
$9,000,000 -
Total: $145,639,000
LW: 5 WR: 4
THTRS: 3,271
7.

Death at a Funeral (2010)
$8,000,000 -
Total: $28,449,000
LW: 4 WR: 2
THTRS: 2,459
8.

Oceans
$6,000,000 -
Total: $8,466,000
LW: N WR: 1
THTRS: 1,206
9.

The Last Song
$3,700,000 -
Total: $55,398,000
LW: 6 WR: 4
THTRS: 2,794
10.

Alice in Wonderland (2010)
$2,200,000 -
Total: $327,473,000
LW: 8 WR: 8
THTRS: 1,385
Your Daily Blend of Entertainment News
Thank you for signing up to CinemaBlend. You will receive a verification email shortly.
There was a problem. Please refresh the page and try again.