Weekend Box Office: Captain America Holds At Number One, Transcendence Tanks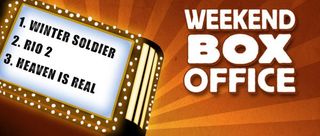 Captain America continued his heroic run this weekend. The Winter Soldier held on to number one for a third weekend in a row, adding $26 million to its domestic total and pushing past the $200 million mark. Rio 2 also held strong, continuing in second place with $22 million, just edging out the new competition.
Of the four new wide releases opening Easter weekend, Heaven is for Real came out on top, landing at third place with $21 million. That was significantly better than the lukewarm reception Johnny Depp's latest movie enjoyed. Transcendence only earned $11 million against its $100 million budget. With less than $30 million in international sales to date, it's on track to the be the fourth Depp film in a row to struggle at the box office.
A Haunted House 2 opened at fifth place with $9 million. While that's only half what it's predecessor banked on its opening weekend last year, it's still a solid profit thanks to the movie's tiny $4 million budget.
Disney's almost perennial Earth Day documentary, Bears, arrived this weekend, but with just $4 million it had the worst opening of the nature series to date and missed the top ten, banking a close eleventh place. The documentaries have never been blockbusters, and it may see a boost during the next week thanks to school trips and Earth Day activities to bring it on par with past entries.
For the full weekend top ten, check out the chart below.
1.
Captain America: The Winter Soldier

$26,612,000Total: $201,526,000LW: 1
THTRS: 3,825
2.
Rio 2

$22,500,000Total: $75,363,000LW: 2
THTRS: 3,975
3.
Heaven is for Real *

$21,500,000Total: $28,500,000LW: N
THTRS: 2,417
4.
Transcendence *

$11,150,000Total: $11,150,000LW: N
THTRS: 3,455
Swipe to scroll horizontally
5.
A Haunted House 2 *
$9,100,000
Total: $9,100,000
LW: N
THTRS: 2,310
6.
Draft Day

$5,900,000Total: $19,548,000LW: 4
THTRS: 2,781
7.
Divergent

$5,750,000Total: $133,915,000LW: 6
THTRS: 2,486
8.
Oculus

$5,202,000Total: $21,191,000LW: 3
THTRS: 2,648
9.
Noah

$5,000,000Total: $93,274,000LW: 5
THTRS: 2,537
Swipe to scroll horizontally
10.
God's Not Dead
$4,801,000
Total: $48,327,000
LW: 7
THTRS: 1,796
Your Daily Blend of Entertainment News