Weekend Box Office: Fast & Furious Flattens After Earth And Now You See Me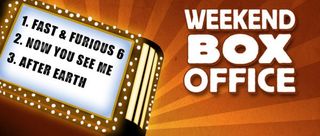 The sixth entry in the Fast & Furious franchise continued not only to outperform all the previous the series but also everything else in theaters. Adding $34 million to its now $170 million domestic total, Fast & Furious 6 held on to the number one spot for a second week, trumping two newcomers that came with big name casts and high expectations.
Will Smith reteamed with his son Jaden for the summer sci-fi action flick After Earth, but despite the double Smith billing the movie came in at a weak third place with just $27 million against its $130 million.
Smith hasn't seen an opening that low for an action movie since the 90s and with very little international interest so far, the movie may end up in the summer box office flop pile. Call it the curse of M. Night Shyamalan. Despite the fact that his name was all but absent from any advertisement, the movie is also one of the worst openings for the director whose past films have trended toward poor reviews and lately towards mediocre box office performance.
For the full weekend top ten, check out the chart below:
1.

Fast & Furious 6
$34,538,000
Total: $170,377,000
LW: 1 WR: 2
THTRS: 3,686
2.

Now You See Me *
$28,050,000
Total: $28,050,000
LW: N WR: 1
THTRS: 2,925
3.

After Earth *
$27,000,000
Total: $27,000,000
LW: N WR: 1
THTRS: 3,401
5.

Star Trek Into Darkness
$16,400,000
Total: $181,156,000
LW: 3 WR: 3
THTRS: 3,585
4.

Epic
$16,400,000
Total: $65,161,000
LW: 4 WR: 2
THTRS: 3,894
6.

The Hangover Part III
$15,930,000
Total: $88,086,000
LW: 2 WR: 2
THTRS: 3,565
7.

Iron Man 3
$8,006,000
Total: $384,751,000
LW: 5 WR: 5
THTRS: 2,895
8.

The Great Gatsby (2013)
$6,265,000
Total: $128,256,000
LW: 6 WR: 4
THTRS: 2,635
9.

Mud
$1,226,000
Total: $16,866,000
LW: 7 WR: 6
THTRS: 581
10.

The Croods
$615,000
Total: $180,538,000
LW: 9 WR: 11
THTRS: 506
Your Daily Blend of Entertainment News
Thank you for signing up to CinemaBlend. You will receive a verification email shortly.
There was a problem. Please refresh the page and try again.