Weekend Box Office: The Identical Tanks As Overall Box Office Slumps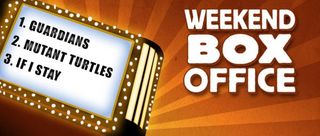 The cinematic doldrums of September and October are off to an unusually quiet start with one of the slowest weekends in recent box office history.
Guardians of the Galaxy continued at number one, but barely topped $10 million. Given that it was the only movie to break into the double digits, it's easy to see just how slow business was at the movies. Box Office Mojo reported that sales this weekend are the slowest in two years and one of the slowest in the last decade.
The only new release this weekend was The Identical. Following up on a devastating 4% approval rating at Rotten Tomatoes, the movie failed to break into the top ten, banking just under $2 million against its reported $30+ million budget, setting it up to be one of the bigger bombs this year.
For the full weekend top ten, check out the chart below:
1.
Guardians of the Galaxy

$10,160,000Total: $294,567,000LW: 1
THTRS: 3,221
2.
Teenage Mutant Ninja Turtles (2014)

$6,500,000Total: $174,647,000LW: 2
THTRS: 3,273
3.
If I Stay

$5,750,000Total: $39,663,000LW: 3
THTRS: 3,157
4.
Let's Be Cops

$5,400,000Total: $66,598,000LW: 5
THTRS: 2,932
5.
The November Man

$4,200,000Total: $17,870,000LW: 6
THTRS: 2,776
6.
As Above/So Below

$3,723,000Total: $15,576,000LW: 4
THTRS: 2,650
7.
When the Game Stands Tall

$3,700,000Total: $23,490,000LW: 7
THTRS: 2,766
8.
The Giver

$3,591,000Total: $37,835,000LW: 8
THTRS: 2,576
9.

The Hundred-Foot Journey
$3,200,000
Total: $45,669,000
LW: 9
THTRS: 2,167
10.
Lucy

$1,950,000Total: $121,207,000LW: 11
THTRS: 1,171