Weekend Box Office: The Martian Climbs Back to Number One As Four New Releases Absolutely Tank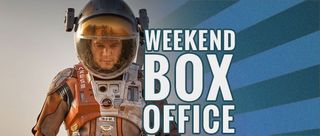 Four new wide release movies hit theaters this weekend and all four tanked in ways that make it easy to remember why October is considered the refuse dump Hollywood makes before making the jump to light speed for the holidays.
The movie that bombed hardest was the adaptation of a cartoon series so old that anyone who remembered it either probably couldn't care less that it was getting a movie treatment or were too ticked off because the story had been cranked through the teen pop music sausage grinder resulting in the feature length equivalent of Rebecca Black's "It's Friday"'s music video. Jem and the Holograms was made on an unbelievably low $5 million budget, making its $1.3 million 15th place debut even more painful.
Bill Murray and Bruce Willis teamed up for Rock the Kasbah, but audiences couldn't be bothered to rock the theater. With only $1.5 million it also failed to break into the top ten, marking the lowest ever wide release opening for director Barry Levinson.
The two tankers that did crack the top ten couldn't break into the top three. The Last Witch Hunter landed in the number four spot, taking in just $10 million against a rumored $80 million production budget. Vin Diesel hasn't headlined such a weak opener since Babylon A.D. which bowed in at $9 million in 2008. The Paranormal Activity horror franchise has churned out nearly one new movie a year since its start in 2009 and the treads have worn thinner with each relase. Paranormal Activity: The Ghost Dimension is the sixth in the series and also the first to ever open in single digits in wide release. With just $8 million it took an appropriate sixth place.
The Martian held on stronger than its main compeition Goosebumps. Though both movies dropped less than 35% from last weekend, The Martian narrowly edged its way back into the number one spot for the third time in its four weekends to date.
For the full weekend top ten, check out the chart below:
1.
The Martian

$15,900,000Total: $166,355,148LW: 2
THTRS: 3,504
2.
Goosebumps

$15,500,000Total: $43,712,142LW: 1
THTRS: 3,501
3.
Bridge of Spies

$11,365,000Total: $32,581,197LW: 3
THTRS: 2,811
4.
The Last Witch Hunter *

$10,825,000Total: $10,825,000LW: N
THTRS: 3,082
5.
Hotel Transylvania 2

$9,000,000Total: $148,292,541LW: 5
THTRS: 3,154
6.
Paranormal Activity: The Ghost Dimension *

$8,200,000Total: $8,200,000LW: N
THTRS: 1,656
7.
Steve Jobs

$7,270,000Total: $9,982,808LW: 11
THTRS: 2,493
8.
Crimson Peak

$5,560,000Total: $22,450,775LW: 4
THTRS: 2,991
9.
The Intern

$3,855,000Total: $64,702,882LW: 7
THTRS: 2,061
10.
Sicario

$2,950,000Total: $39,385,547LW: 8
THTRS: 1,448
Your Daily Blend of Entertainment News
Thank you for signing up to CinemaBlend. You will receive a verification email shortly.
There was a problem. Please refresh the page and try again.