Weekend Box Office - Number One Pirates Sink A Bit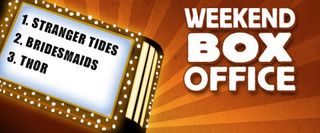 Summer got into full swing this weekend with the first major anticipated blockbuster arriving in theaters.
Pirates of the Caribbean: On Stranger Tides swash-buckled onto the scene with a year-to-date best opening of $90 million. While that's no skin off an old flint's nose, it is the lowest debut total for a Pirates of the Caribbean movie since the first in the series Curse of the Black Pearl.
Of course Captain Jack Sparrow and mates are hardly hurting for booty. When you roll in sales around the world the movie has banked a whopping $346 million so far, a good deal over it's extravagant $250 million budget.
Overall On Stranger Tides may have seen a dip in box office performance from its predecessors, but it's proven that even with a major cast overhaul and a new general direction, the franchise is still worth its weight in buried pirate treasure.
What does this cash influx mean for the overall ailing box office? Total sales (bloated 3D ticket prices and all) are still more than 10% down from where they were this time last year which means ticket sales numbers are even lower. But there may be hope. June's line up of sequels to popular franchises could spell a recovery for ticket sales.
Meanwhile three week-old Thor didn't just drop from first place. The superhero slipped all the way to third place sliding past popular Bridesmaids which lost only 20% of its ticket sales from last weekend.
For the full weekend top ten, check out the chart below:
1.

Pirates of the Caribbean: On Stranger Tides *
$90,100,000
Total: $90,100,000
LW: N WR: 1
THTRS: 4,155
2.

Bridesmaids
$21,058,000
Total: $59,518,000
LW: 2 WR: 2
THTRS: 2,937
3.

Thor
$15,500,000
Total: $145,406,000
LW: 1 WR: 3
THTRS: 3,924
4.

Fast Five
$10,631,000
Total: $186,219,000
LW: 3 WR: 4
THTRS: 3,622
5.

Rio
$4,650,000
Total: $131,647,000
LW: 5 WR: 6
THTRS: 2,593
6.

Priest
$4,600,000
Total: $23,683,000
LW: 4 WR: 2
THTRS: 2,864
7.

Jumping the Broom
$3,700,000
Total: $31,318,000
LW: 6 WR: 3
THTRS: 1,472
8.

Something Borrowed
$3,425,000
Total: $31,428,000
LW: 7 WR: 3
THTRS: 2,606
9.

Water for Elephants
$2,150,000
Total: $52,428,000
LW: 8 WR: 5
THTRS: 1,894
10.

Tyler Perry's Madea's Big Happy Family
$990,000
Total: $51,757,000
LW: 9 WR: 5
THTRS: 912
Your Daily Blend of Entertainment News
Thank you for signing up to CinemaBlend. You will receive a verification email shortly.
There was a problem. Please refresh the page and try again.