Weekend Box Office: Remade Evil Dead and Re-released Jurassic Park Help Rejuvenate Box Office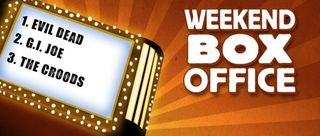 After a very sluggish first quarter, the first weekend of April brought a ray of sunshine to the box office. While there weren't any blockbusters, the top ten did fairly well overall for an April weekend.
The remake of Evil Dead landed first place with $26 million, just shy of the $28 million that horror flick Mama enjoyed earlier this year. While it's not a particularly distinguishing opening, even for a horror film, it's proof there's interest in the reboot to perhaps see the franchise redux continued.
The re-release of Jurassic Park 3D, intended to whet appetites for the forth coming Jurassic Park 4, launched at fourth place with $18 million. That's short of the 3D re-release of Star Wars: Episode I, but a step ahead of Titanic 3D, both of which launched last year with $22 million and $17 million opening weekends respectively. The relaunch is already a money maker. The 3D conversion reportedly cost around $10 million, but the bigger payoff will come from reminding fans of the time when Jurassic Park was good, and getting them excited all over again to go back for the next installment.
There were big splashes in small release this weekend, including Robert Redford and Shia LaBeouf's The Company You Keep and Danny Boyle's Trance, both of which opened on just a handful of screens but earned over $125,000 apiece. Neither movie has a definite schedule for wide expansion, though Trance which has already earned over $7 million abroad, is set to appear in almost 400 venues next week.
For the full weekend top ten, check out the chart below:
1.

Evil Dead (2013)
$26,000,000
Total: $26,000,000
LW: N WR: 1
THTRS: 3,025
3.

G.I. Joe: Retaliation
$21,100,000
Total: $86,663,000
LW: 1 WR: 2
THTRS: 3,734
2.

The Croods
$21,100,000
Total: $125,800,000
LW: 2 WR: 3
THTRS: 3,879
4.

Jurassic Park 3D
$18,247,000
Total: $18,247,000
LW: N WR: 1
THTRS: 2,771
5.

Olympus Has Fallen
$10,042,000
Total: $71,116,000
LW: 4 WR: 3
THTRS: 3,059
6.

Tyler Perry's Temptation: Confessions of a Marriage Counselor
$10,000,000
Total: $38,383,000
LW: 3 WR: 2
THTRS: 2,047
7.

Oz The Great and Powerful
$8,171,000
Total: $212,767,000
LW: 5 WR: 5
THTRS: 2,905
8.

The Host (2013)
$5,239,000
Total: $19,665,000
LW: 6 WR: 2
THTRS: 3,202
9.

The Call
$3,500,000
Total: $45,481,000
LW: 7 WR: 4
THTRS: 2,002
10.

Admission
$2,054,000
Total: $15,373,000
LW: 8 WR: 3
THTRS: 1,407
Your Daily Blend of Entertainment News
Thank you for signing up to CinemaBlend. You will receive a verification email shortly.
There was a problem. Please refresh the page and try again.