Weekend Box Office: Straight Outta Compton Debuts At Number One On The Chart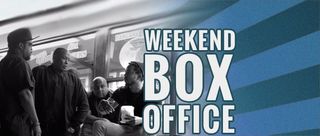 Straight Outta Compton made a smash arrival in theaters, landing a solid number one debut.
Opening to the beat of $56 million, the music biopic had the highest ever start in that category, eclipsing previous entries like Ray ($20 million in 2004), Notorious ($20 million in 2009) and Walk the Line ($22 million in 2005). Then again, Straight Outta Compton tells the tale of an entire group of famous performers, not just one, so why not expect an even bigger turn out?
The latest spy thriller The Man from U.N.C.L.E. didn't enjoy quite as warm a welcome, despite also having some love from critics. With only $13 million this weekend, it made a limp landing in third place behind Mission: Impossible - Rogue Nation.
Following up on a devastating opening, Fantastic Four dropped a painful 70% from last weekend's debut, adding just $8 million to its now $41 million total. Foreign sales were barely enough to push it past the $100 million mark in overall world sales, but that still leaves it as a financial flop for Fox.
For the full weekend top ten, check out the chart below:
1.
Straight Outta Compton *

$56,100,000Total: $56,100,000LW: N
THTRS: 2,757
2.
Mission: Impossible - Rogue Nation

$17,000,000Total: $138,137,000LW: 1
THTRS: 3,700
3.
The Man From U.N.C.L.E. *

$13,535,000Total: $13,535,000LW: N
THTRS: 3,638
4.
Fantastic Four

$8,000,000Total: $41,961,000LW: 2
THTRS: 4,004
5.
The Gift (2015)

$6,500,000Total: $23,577,000LW: 3
THTRS: 2,503
6.
Ant-Man

$5,517,000Total: $157,568,000LW: 5
THTRS: 2,306
7.
Vacation

$5,330,000Total: $46,852,000LW: 4
THTRS: 3,088
8.
Minions

$5,200,000Total: $312,969,000LW: 6
THTRS: 2,640
9.
Ricki and the Flash

$4,570,000Total: $14,656,000LW: 7
THTRS: 2,064
10.
Trainwreck

$3,800,000Total: $97,919,000LW: 8
THTRS: 1,998
Your Daily Blend of Entertainment News