Weekend Box Office: Underworld Takes A Fresh Bite Out Of The Box Office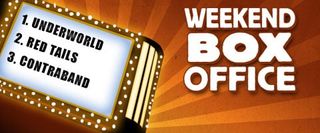 Kate Beckinsale returned to the Underworld franchise this weekend, giving the fourth film in the series, Underworld Awakening, a boost. With a $25 million opening it easily took the number one spot.
Its predecessor, Underworld: Rise of the Lycans, the first movie in the franchise without Beckinsale, made only $20 million its starting weekend, a drop from the second film Underworld: Evolution's $27 million debut. The lesson here? Audiences pay to see vampires and werewolves, but they pay more when its Kate behind the glowing blue eyes and fangs.
George Lucas' latest offering, Red Tails, saw a decent debut swooping up $19 million for second place. While its $58 million budget is a pittance by Lucas' usually extravagant financial standards, it leaves a lot of room for catch up before the movie makes a profit.
After wallowing in very small release for nearly a month Extremely Loud & Incredibly Close opened in wide release and managed a meager debut with $10 million. That was one step better than newcomer Haywire which settled for a disappointing fifth place with $9 million.
For the full top ten breakdown, check out the chart below:
1.

Underworld Awakening *
$25,400,000
Total: $25,400,000
LW: N WR: 1
THTRS: 3,078
2.

Red Tails *
$19,100,000
Total: $19,100,000
LW: N WR: 1
THTRS: 2,512
3.

Contraband
$12,200,000
Total: $46,100,000
LW: 1 WR: 2
THTRS: 2,870
4.

Extremely Loud & Incredibly Close
$10,545,000
Total: $11,237,000
LW: 36 WR: 5
THTRS: 2,630
5.

Haywire *
$9,000,000
Total: $9,000,000
LW: N WR: 1
THTRS: 2,439
6.

Beauty and the Beast (3D)
$8,556,000
Total: $33,364,000
LW: 2 WR: 2
THTRS: 2,625
7.

Joyful Noise
$6,075,000
Total: $21,903,000
LW: 4 WR: 2
THTRS: 2,735
8.

Mission: Impossible - Ghost Protocol
$5,540,000
Total: $197,349,000
LW: 3 WR: 6
THTRS: 2,519
9.

Sherlock Holmes: A Game of Shadows
$4,805,000
Total: $178,611,000
LW: 5 WR: 6
THTRS: 2,485
10.

The Girl with the Dragon Tattoo (2011)
$3,750,000
Total: $94,775,000
LW: 7 WR: 5
THTRS: 1,907
Your Daily Blend of Entertainment News
Thank you for signing up to CinemaBlend. You will receive a verification email shortly.
There was a problem. Please refresh the page and try again.