You Missed It: The 8 Most Unfairly Overlooked Movies Of 2010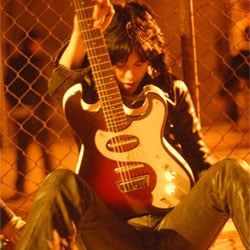 When people look back on 2010 they'll remember the big blockbusters like Toy Story 3 or Iron Man 2. We'll still be talking about Inception or The Social Network. We'll keep obsessing over the inevitable award winners like Winter's Bone or even perhaps The King's Speech. You'll geek out with your friends about that night you went to see Tron: Legacy or force sure to be cult classics like Scott Pilgrim vs. the World on your buddies. Those movies, in one way or another, captured your attention.
Yet maybe you missed something. In a better world maybe we should have noticed these movies too. Maybe we should have actually shown up to see them. Maybe we should have been talking about them. These are the movies nearly everyone overlooked; good movies which somehow not nearly enough people saw, no one championed, and in some cases studios didn't even bother to market.
This isn't a list of critically acclaimed indies which didn't do well at the box office (they've already been endlessly championed, they had their shot), or films with huge fan followings which couldn't get anyone else to turn out (sorry Kick-Ass). Nor is this a list of movies which flopped at the box office but seem destined for cult success. These movies simply fell between the cracks and never really found the audience they deserved. When you're thinking back on this, you won't think of these films, but maybe you should. Consider giving these movies a second chance. Violent and strange, funny and endearing, gritty and sexy; they're the most unfairly overlooked movies of 2010.
Morning Glory
Morning Glory is probably best described as a peppy little movie and maybe it's the fact that it's so much fluff which kept anyone from taking it seriously enough to notice its existence. Fluff it is, but it's pretty good fluff. Rachel McAdams stars as a TV morning show producer driven to make her career through sheer effort and determination. She ends up paired with a cranky uncooperative newsman played by the seemingly permanently crotchety Harrison Ford. In another movie the story would end with McAdams' character realizing that she doesn't need a career so much as she needs a man, or some equally sexist, bullshit claptrap. Luckily this isn't a Katherine Heigl movie. Ford is delightfully unpleasant throughout, it's easily the best work he's done since 1997's Airforce One. McAdams is, well, McAdams. She's practically perfect in every way. You'd think a movie, any movie with Harrison Ford might get a second look from the world in general, but critics never championed it, the studio never really did a good job of advertising it, and so the world failed to take notice. That's a shame. Morning Glory is fluff, but it's really good fluff.
Let Me In
Every movie nerd in the world seemed to panic when Matt Reeves announced he was planning to remake Let the Right One In, the moody and violent Swedish movie that was the thinking man's vampire romance of 2009. Even though Reeves's Cloverfield was pretty well-received, nobody thought he'd have anything to add to Thomas Alfredson's film, and Americanizing the story would make it nothing more than a younger version of Twilight. Then the film debuted at the Toronto Film Festival and stunned critics with its deeply felt performances, unflinching commitment to depicting violence, and subtle changes that made the whole thing a genuinely American, Spielberg-influenced story. Then it opened opposite The Social Network on October 1 and it dropped off the map entirely, making just $21 million worldwide in its entire theatrical run. All the critics who could have championed it were distracted by the David Fincher movie, and horror fans lured with ads that promised something gory and thrilling were repulsed by a moody, even romantic movie about things we don't always like seeing in our movies. In a way it split the difference between critically acclaimed prestige movies-- too violent, and still bearing that pejorative title of "American remake"-- and timed-for-Halloween horror movies-- sadly, it was too smart to make it against Saw 3D. The one upside to the public ignoring Let Me In is that it's perfectly positioned, just like the original, to be discovered by movie fans who won't know what they're in for.
Harry Brown
Harry Brown is kind of like a less racist version of Gran Torino. That doesn't mean it's any less good. Featuring the venerable Michael Caine giving one of his best starring performances in far too long, the film capably tackles the problems and fears of the elderly, while at the same time crafting a tale of vengeance and regret. Caine plays Harry as a former badass, who long ago buried his violent side to be the quiet husband for his beloved wife. Now an elderly widower, something happens which prompts him to reawaken that side of himself, in the service of setting things right. The police are useless, Harry is all but friendless, and when Brown takes matters into his own hands it seems perfect. Harry Brown is kind of like the anti-Red, a realistic movie about an elderly person who refuses to be afraid, and instead sets out to do what needs to be done. We've seen a lot from the ultra-real vigilante genre, but when the movie's lead is as good as Caine, it's impossible to be bored with it. Harry Brown is a vicious entry into the tried and true revenge formula. You'd think The Dark Knight connection alone would have been enough to get audiences out to see Michael Caine, but somehow it never happened here in America. Though it did fairly well in the UK, earning $8 million there, Stateside Harry Brown never caught on. The film only made it into 67 theaters and though Samuel Goldwyn Films tried to advertise it, dismal per-screen averages doomed it to a quick exit. But watching Michael Caine kick butt, that never gets old.
American: The Bill Hicks Story
I walked into American: The Bill Hicks Story knowing almost nothing about the deceased comedian and walked out his biggest fan. Unlike just about any other documentary you've ever seen on comedy, this one is more than just a series of great stand-up moments from Bill, though it contains many of those. The film strives to capture the essence of what Bill Hicks stood for, and Bill Hicks stood for a lot. It works in large part because of the way it's put together. Rather than simply relying on found footage, directors Matt Harlock and Paul Thomas have ingeniously animated actual still photos of Bill to recreate the scenes their interviewees describe on screen. It's pulled off successfully in a way that few other documentaries have ever really managed. It's more than a gimmick though, American draws you deep into the mind of Hicks, a brilliant social commentator and skeptic. Throughout the film Bill wanders the country, pleading with his audiences for logic and common sense, begging people to listen and laugh with him. They didn't. Hicks never found widespread fame in America before his untimely death. We wanted Larry the Cable Guy and fart jokes instead. Bill was ahead of his time and now his genius lives on in the year's best documentary, which almost appropriately, never got a domestic release outside the festival circuit and so absolutely no one saw. Seek out this movie.
The Warrior's Way
With crazy three sixty camera shots, mid-scene background changes and lots and lots of dead clowns, The Warrior's Way is a totally original voice in a sea of retreaded yawns. Too bad it'll go down as one of the worst flops of the year. At least half of the movie business is expectations, and when you let a film sit for two years before casting it off without a shred of marketing, the general public, as well as critics, are going to assume its terrible. And rightfully so. But every once in a while, the studio just gets it wrong. The Warrior's Way is a savage, grizzly and violent art house picture that's too weird for audiences expecting character-less bloodshed and too morally perverse for those expecting any sort of tame character study. With a wonderful supporting performance from Geoffrey Rush and a script that asks its main character to massacre a puppy, The Warrior's Way tries every bit as hard as Scott Pilgrim Vs The World, and even though it doesn't always work, it more than warrants a viewing from anyone down with seeing some weird and unique filmmaking. Clowns vs Ninjas vs Cowboys? How the hell were more people not on board with this?
Going the Distance
The romantic comedy genre hasn't really been right since the 90s, so perhaps it's forgiveable that everyone took one look at the posters for Going the Distance and simply said nope. But this Drew Barrymore and Justin Long entry is better than the average Katherine Heigl movie. It avoids most of the worst romantic comedy cliches, at least where its characters are concerned, to create people you can believe in. People with, you know, actual jobs. The chemistry between real life couple Barrymore and Long is great, but the comedic heavy lifting is carried by insanely talented It's Always Sunny in Philadelphia alum Charlie Day, stealing scenes to deliver one of the funniest performances almost no one but me and a couple of other schlubs saw this year. The film's rare romantic comedy R-rating allowed them to tackle adult subjects with an adult sensibility in a realistic story about people who seem like they might actually exist. Yet for whatever reason Warner Bros. didn't believe in it, and never really got behind marketing it. Going the Distance drifted in and out of theaters with barely a whisper. Go the distance necessary to find it, somewhere out there.
The Runaways
When I reviewed the movie back in March I called Kristen Stewart a modern James Dean. I'm standing by that. If you've only seen her in Twilight, you've probably assumed the worst about the future vampire bride, but in The Runaways Stewart is stupendous as real life, fem rocker Joan Jett. The rest of the movie around her, isn't bad either. It's a real, seedy, drug-infested, sex-soaked rise to rock and roll fame tale, except all the rockers just happen to be girls. The film focuses primarily on the story of Runaways front girl Cherie Currie (Dakota Fanning) as she's indoctrinated into the rock and roll lifestyle, then sexed up to sell records by the zany, scene-stealing Michael Shannon as manager Ken Fowler. But it's Stewart Joan Jett who will really capture your attention, and she ends up carrying the movie. Stewart's Joan lives and breathes guitar licks, as the true talent behind the music. The rock and roll scenes are toe-tapping fun and the tale of an all girl band manufactured, unleashed, and then run aground is as interesting and fucked up as it ought to be. You'd think any movie starring Kristen Stewart would be an instant sensation, yet somehow her Twilight fandom never really seemed to notice she was in it. Maybe it was the film's hard R-rating which scared the overly chase Twilight crowd away. Whatever the reason, while the movie earned positive reviews, once it was released no one seemed to notice.
The Square
David Michod's Animal Kingdom has gotten a lot of attention, rightly, for its cold-blooded portrayal of Australian criminal families and a terrific supporting performance from Jacki Weaver. But Michod is just one in a pack of up-and-coming Aussie filmmakers and actors, among them Nash Edgerton, a former stuntman who made his directorial debut this year with the tidy, chilly thriller The Square. A pitch-black noir about a man who seems like an upstanding citizen but whose life is unraveling as the behest of a classic femme fatale, it's a genre exercise that doesn't feel fussy or measured, just an unblinking look at what selfish people will do when cornered in unfavorable circumstances. As you'll know if you've ever seen a Coen Brothers movie, they don't treat each other all that well. Raymond (David Roberts) owns a construction company that's laying the foundation for a new building, a large square of land that, as the title suggests, will loom large over his guilty conscience later on. Carrying on an affair with younger neighbor Carla (Claire van der Boom), Ray agrees to a scheme to steal some cash from Carla's no-good husband, burn down the house to cover their tracks, and light out for the territories before anyone can put the pieces together. You don't need to have seen Double Indemnity to know this won't work out well, but Edgerton makes The Square less of a slowly unraveling criminal scheme than a psychological noose tightening around Raymond's neck. He's a decent guy caught in some awful behavior, and his torment over all of it doesn't just give The Square greater impact, but reminds us that, when given the opportunity, we might do exactly the same thing.
The Square got a limited release in the spring but distributor Apparition Entertainment was in the midst of some financial struggles-- its founder Bob Berney left the company in May, and they laid off nearly the entire staff later that summer-- and there was simply no energy or money to promote The Square to the audiences who could have embraced it. But they totally missed an opportunity to piggyback on Animal Kingdom's critical success, with The Square just as entertaining and more action-packed than that film. They're both very good, but only The Square failed to get its due the first time around.
For more of Cinema Blend's 2010 wrap-up go here.
Your Daily Blend of Entertainment News
Enthusiastic about Clue, case-of-the-week mysteries, a great wrestling promo and cookies at Disney World. Less enthusiastic about the pricing structure of cable, loud noises and Tuesdays.