As You Suspected, Zach Galifianakis Probably Won't Play John Belushi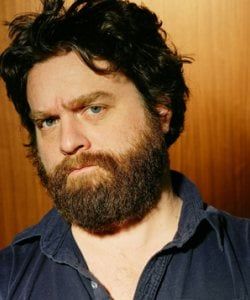 The minute the news broke that Todd Phillips had picked up the life rights to make a biopic about John Belushi, everyone on the Internet speculated he'd pick Zach Galifianakis to star. The two worked together on The Hangover and the upcoming Due Date, and Galifianakis has the portly funnyman thing down pat, even if at 40 he's already older than Belushi ever was (the Blues Brothers star died at 33).
But Galifianakis, probably very wary of wearing out his welcome with moviegoers, has been careful not to make the expected career moves-- see him next week in It's Kind of A Funny Story for proof of that. So it's not all that surprising to hear that when MTV's Josh Horowitz caught up with Galifianakis recently, he seemed hesitant to talk about the Belushi biopic at all, admitting he'd talked to Phillips about it but probably wouldn't take the role.
Of course, it's always hard to tell if Galifianakis is giving you a straight answer or just deadpanning, and he launched immediately into a bit about how he could play Grizzly Adams instead. So really, who knows. I'm choosing to read between the lines here and assume that Galifianakis is passing on playing such a loaded role, but watch the video below and decide for yourself.
Movie Trailers (opens in new tab) - Movies Blog (opens in new tab)
Staff Writer at CinemaBlend
Your Daily Blend of Entertainment News
Thank you for signing up to CinemaBlend. You will receive a verification email shortly.
There was a problem. Please refresh the page and try again.