Young Freddy Krueger Revealed In Elm Street Set Photos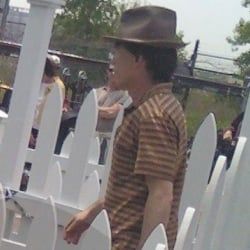 White picket fences and pre-schools and Fisher Price toy cars don't usually fall on the list of "things that are creepy." That is, unless Freddy Krueger is hanging around at the playground. In some snaps of the Nightmare on Elm Street set taken by a JoBlo reader, you can see Jackie Earle Haley in costume as the famed haunter of dreams. This appears to be Freddy before the scars, the claws and even the green and red sweater. Flashback? Or are we getting a prequel we didn't know about?
Head over to JoBlo for more photos from the set, and the larger version of the image you see above. Haley still looks perfect for the part, though I wonder if he'll be able to be genuinely terrifying, given that everyone liked him even when he was playing Rorschach in Watchmen. But if he does what we all think he's going to do at that preschool, that'll probably be a pretty good start at villainy.
Staff Writer at CinemaBlend
Your Daily Blend of Entertainment News
Thank you for signing up to CinemaBlend. You will receive a verification email shortly.
There was a problem. Please refresh the page and try again.