The Worst Movie Ever Made, According To Jackie Earle Haley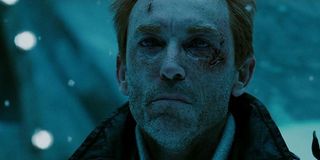 We all have our pick for the world's worst movie, and it's something no one should be afraid to admit. When it comes to Jackie Earle Haley's filmography though, even the veteran actor can admit that one of his own films deserves that dubious distinction. If you're one of the many people who hate The Bad News Bears Go To Japan, then you can add Haley himself to your ranks.
During an AMA conducted on Reddit earlier today, Haley waxed nostalgic on many of the experiences he's had in his varied film career. And somewhere, in-between awesome stories on how intense an experience Watchmen was to film, and how his own directorial debut, Criminal Activities, was a joy to make, he found time to set the record straight that even he didn't respond well to the third and final installment in the little league themed franchise's run. Simply put, this is Jackie Earle Haley's feelings on The Bad News Bears Go To Japan:
This response was prompted after a Redditor asked the actor if there were any plans to remake the 1978 Tony Curtis vehicle, which only saw five actors returning from the first film's cast, including Haley in his role as Kelly Leak. What's interesting is despite the existence of a 2005 remake with Billy Bob Thornton, which by all accounts was a disaster in the eyes of most critics and accountants exposed to its wake, The Bad News Bears Go To Japan is the film that Jackie Earle Haley has deemed the worst in the world. Then again, like most audiences during the film's theatrical release, he probably didn't even see it - and we wouldn't blame him if this was the case.
The rest of the AMA was as eventful and interesting as you'd expect, with Haley saying that out of all of the scenes in the entirety of filming Watchmen, one of the hardest was the scene towards the end where he's daring Billy Crudup's Doctor Manhattan to vaporize him. If you really want to get a handle on just how much of a range Jackie Earle Haley has had throughout his career, consider this: he went from starting out as a member of a rag-tag band of little league underdogs to portraying one of the most complex, and emotionally fragile costumed heroes in the history of the medium. A portrayal that you can catch a glimpse of in the clip below.
As for the future of Haley's career, he admits that Criminal Activities has given him the directorial experience he's always wanted, and he's eager for more. Though don't think that he's done with the world of comics, as he's hinted that he'd love to take part in Marvel and DC Comics projects somewhere down the line. Maybe, if Zack Snyder and HBO ask nicely, he'd be on board for directing a couple episodes of the rumored Watchmen series that might be in the works. Rorschach directing an hour long installment about Rorschach… if that's not fitting, we don't know what is.
You can watch Jackie Earle Haley's directorial debut, Criminal Activities, in select theaters or through VOD this Friday.
CinemaBlend's James Bond (expert). Also versed in Large Scale Aggressors, time travel, and Guillermo del Toro. He fights for The User.
Your Daily Blend of Entertainment News
Thank you for signing up to CinemaBlend. You will receive a verification email shortly.
There was a problem. Please refresh the page and try again.