Zach Galifianakis And Amy Adams Moving In Together?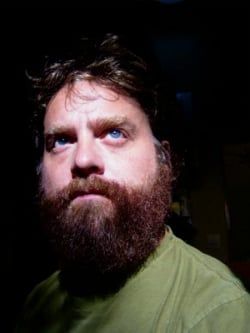 I want you to enjoy this time right now, while Bored to Death is quietly running on HBO and The Hangover is enshrined as a great summer movie. It may be the last time ever again you're not sick of hearing about Zach Gailfianakis. The Hangover breakout star has signed on to a dizzying number of roles since that movie's success, and now he's managed to add yet another to the pile.
He and Amy Adams are likely to star in Town House, a Fox comedy about the entitled son of a rock star who won't leave the townhouse his father left him. Adams plays a call girl who, Pretty Woman-style maybe, helps him get back into the real world. According to Variety, Ridley and Tony Scott are producing the project, which suggest that either a high-speed chase or an explosion might dampen all this human bonding.
Don't get me wrong-- I'm not sick of Galifianakis yet either. But I'm worried he's going to wind up overexposed after appearing in the next 5 comedies we see. Then again, it didn't hurt Steve Carell.
Your Daily Blend of Entertainment News
Staff Writer at CinemaBlend