Zach Galifianakis Weighs His Options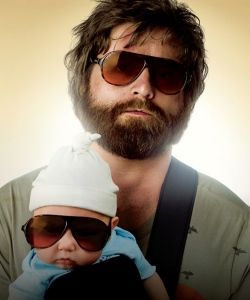 The next time we'll see Zach Galifianakis onscreen, it will somehow be in G-Force, the Jerry Bruckheimer live-action-CGI hybrid about guinea pig special operatives. But when it comes to roles that reflect Galifianakis' post-Hangover fame, we might be waiting a while. THR has a piece today explaining how Galifianakis has been extra-careful about choosing his next roles, even though studios are pre-emptively attaching his name to several projects in order to get other people on board.
Two of the likeliest possibilities are also Todd Phillips projects, the road trip comedyDue Date (in which Galifianakis would presumably play a slacker similar to his Hangover character) and Man-Witch, formerly a Jack Black vehicle about a guy who finds himself at a school for teenage witches.
In addition there's Say Uncle, another comedy, and the sequel to The Hangover, which was greenlit months before it hit theaters and made a boatload of cash. No telling what Galifianakis will actually go for, though I would hope that, given that he's made it to the age of 39 without being a mega-star, he won't immediately go running after the cash. We like you, Galifianakis, but if you start selling out (G-Force excluded), the honeymoon may end quickly.
Staff Writer at CinemaBlend
Your Daily Blend of Entertainment News
Thank you for signing up to CinemaBlend. You will receive a verification email shortly.
There was a problem. Please refresh the page and try again.