David Huddleston, Star Of The Big Lebowksi, Has Died At 85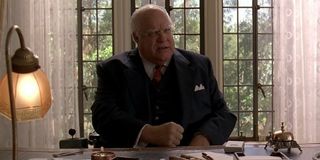 David Huddleston, The Big Lebowski himself in the Coen Brothers' 1998 classic, has died at the age of 85. The prolific actor, who amassed close to 150 television and film credits in his career, passed on Tuesday, with his wife of 32 years Sarah Koeppe revealing that he'd been suffering from advanced heart and kidney disease.
For most modern movie-goers, David Huddleston will be remembered for his titular role in The Big Lebowski. As the wheelchair bound multi-millionaire who is forced to deal with the similarly named Jeffrey 'The Dude' Lebowski, David Huddleston was the perfect, aggressive counterweight to Jeff Bridges' slacker. His scene might have been brief, but it was memorable.
While David Huddleston's place in movie history is etched because of his performance in The Big Lebowski, just one look at his eclectic CV proves how formidable and arresting a character actor he was. Born in Vinton, Virginia, back in 1930, Huddleston served in the United States Air Force before he began his acting career.
From 1969 onwards, though, Huddleston found regular work on television and in movies. In fact, by 1970 he was being directed by the legendary Howard Hawks in the John Wayne led Rio Lobo, while over the next few decades, he'd act opposite John Wayne again in McQ, James Stewart in Fools' Parade, Gregory Peck in Billy Two Hats, and he was close pals with James Cagney.
In fact, according to The Hollywood Reporter, when he had some downtime with the latter, David Huddleston once asked, "What's the best advice you can give me on acting?' To which Cagney sagely responded, "Try never to get caught at it, kid." Something that he accomplished emphatically.
Alongside The Big Lebowski, David Huddleston's most prominent roles came as another irritable, Mayor Olsen Johnson in the 1974 Mel Brooks classic Blazing Saddles, which the actor described as "probably the most fun I have ever had on a set."
Meanwhile, he also portrayed Father Christmas opposite Dudley Moore's Elf in 1985's Santa Claus, and in recent years played a Republican senator on The West Wing, an old business partner of Danny DeVito's on It's Always Sunny Philadelphia, which was his last on-screen appearance, and he received an Emmy nomination for his guest-starring role on The Wonder Years, too.
But, as we bid farewell to such a ferocious screen presence, it feels fitting to end on a _Big Lebowski _sequence that sums up how we're all feeling today.
David Huddleston is survived by his wife Sarah, his son Michael and his daughter-in-law Nancy.
Your Daily Blend of Entertainment News
Thank you for signing up to CinemaBlend. You will receive a verification email shortly.
There was a problem. Please refresh the page and try again.