How Much Money The Magnificent Seven Could Earn This Weekend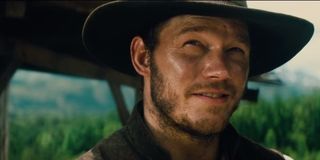 To paraphrase Mark Twain's most famous quote, reports of the western's death have been greatly exaggerated. Sure, the genre isn't thriving quite like it was during the era of John Ford, John Wayne and John Sturges, but the remake of The Magnificent Seven has started off rather well at the box office to suggest that the western is doing rather dandy. That's because The Magnificent Seven earned $1.75 million on Thursday night.
According to The Hollywood Reporter, The Magnificent Seven made this amount in just a coupe of hours on Thursday evening, as it played across 3,096 screenings. Sony and MGM, the studios that have combined together to release the remake, will be ecstatic to learn that The Magnificent Seven is on course to record an opening weekend haul of at least $30 million and maybe even as high as $40 million.
The big question now is how long The Magnificent Seven will stick around at the box office, and whether it will be able to move far enough past it budget of around $108 million. Its estimated opening weekend total suggests that it could do just that, while it's a welcome relief to the studios after The Magnificent Seven only received mixed reviews.
A remake of John Sturges' The Magnificent Seven, which was released back in 1960 and is itself a remake of Akira Kurosawa's Seven Samurai from 1954, director Antoine Fuqua's star-studded blockbuster has one of the best casts of the year, with Denzel Washington and Chris Pratt joined by Ethan Hawke, Vincent D'Onofrio, Byung-hun Lee, Manuel Garcia-Rulfo, Martin Sensmeier, Haley Bennet and Peter Sarsgaard.
The Magnificent Seven's projected haul means that it should eclipse Warner Bros.' Storks, which is its closest competitor to finish atop the box office this weekend. The Warner Bros. animated film is believed to be on course for a haul of somewhere between $20 million and $30 million. However, it's likely to stick around at the box office for a bit longer than The Magnificent Seven, as kids and animated films usually do.
Storks includes the vocal talent of Andy Samberg, Katie Crown, Kelsey Grammar, Keegan-Michael Key, Jordan Peele, Jennifer Aniston, Ty Burrell and Danny Trejo, and is set in a world where the titular birds no longer deliver babies. However, when a baby arrives in the world and needs to be delivered the storks must work together to try and figure out how to get it to its home.
The big question now is how long these films will stick around at the top of the box office. They've got some stiff competition coming up next week, as Deepwater Horizon is likely to take away some of the audience for The Magnificent Seven, while Miss Peregrine's Home For Peculiar Children will vie for Storks' viewers, too.
Your Daily Blend of Entertainment News