Weekend Box Office: LEGO Batman Stays On Top, Cure For Wellness Takes Turn For The Worse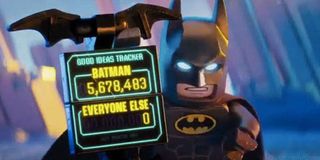 Last weekend was dominated by new sequels and spin-offs, but this was the weekend for new original movies. The sequels landed the top three spots last week, but this week's originals didn't fare so well.
The LEGO Batman Movie only dropped 35% from last weekend, keeping a solid grip on the top spot with $34 million, falling just shy of the $100 million mark at $98 million. Fifty Shades Darker also maintained its rank, adding $20 million to its $89 million for a second week in second place.
Director Zhang Yimou's action fantasy flick The Great Wall debuted in third place with $18 million. That's a weak domestic start compared with its $150 million production budget, but having already been in release around the world, since December in some places, it already has $244 million in other markets around the world. It narrowly marks the highest domestic opening for Yimou, just topping the release of Hero back in 2004.
Rated-R comedy Fist Fight took some lumps on its opening weekend, banking just $12 million for a fifth place debut. That seemed like an amazing start compared with Gore Verbinski's A Cure for Wellness. The stylized horror entry barely eeked out a spot at tenth place with $4 million against a $40 million budget.
For the full weekend top ten, check out the chart below:
Your Daily Blend of Entertainment News
Thank you for signing up to CinemaBlend. You will receive a verification email shortly.
There was a problem. Please refresh the page and try again.