Batman v Superman's Warehouse Scene Is More Awesome With The LEGO Batman Theme Song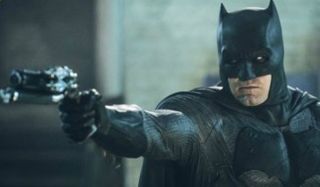 The reactions to The LEGO Batman Movie and Batman v Superman: Dawn Of The Justice couldn't have been more disparate. One was lauded for being a fun and energetic look at the Caped Crusader that everyone in the family can enjoy, while the other was roundly attacked for being overly long, overly serious and overly stupid. I'll let you figure out which is which. But it turns out that when you put the two together, you create something truly enthralling. That's exactly what happened when an editor mixed Will Arnett's dulcet tones singing, "Who's The (Bat)Man" with Ben Affleck's Batman saving Martha Wayne in BvS. You can check out the sensational clip below.
Wasn't that just the best three minutes and 33 seconds of your day? It probably even made you briefly believe that Batman v Superman: Dawn Of Justice was actually a flawless movies, before you then quickly came back to your senses, looked up to the sky and screamed, "Snyddddddeerrrrr!!!"
All the credit for this snappy clip belongs to YouTube editor Cristian Ortiz, who seamlessly molds together "Who's The (Bat)Man," which was written for The Lego Batman Movie by Patrick Stump, with what was easily Batman v Superman's best scene. Now all we need is a video of Ben Affleck dressed as Batman playing the guitar.
If the Academy Awards have their act together they'd have already asked Affleck to join Will Arnett on stage so that they could both rock out as the characters on Sunday. At the 2015 Oscars, Will Arnett made a brief appearance during Lonely Island and Tegan & Sara's rendition of "Everything Is Awesome," which you can remind yourself of below.
I suppose they don't have to sing, even though that's obviously encouraged, but they should at least present an award together in full on Batman attire. The LEGO Batman Movie has proven to be a big success for Warner Bros. As well as being met with superb reviews (amassing a score of 91% on Rotten Tomatoes), The LEGO Batman Movie has so far grossed $179.2 million from just an $80 million budget. Those of you considering adding to its haul should watch its trailer below, as that will convince you to do so.
Unfortunately, we're still waiting for news regarding Ben Affleck's solo outing as Batman. Not only did he recently drop out as its director, but Matt Reeves passed on being his replacement, and there have even been rumors that he wants to leave the part altogether. At least we'll always have the Batman warehouse scene as a reminder of what could have been, though. You can also look forward to Affleck putting on the cape and cowl again when Justice League is released on November 17.
Your Daily Blend of Entertainment News