This Rotten Week: Predicting Tulip Fever Reviews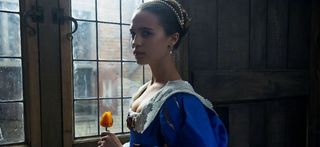 Just as quickly as it started, the summer is drawing to a close. We've had blockbusters and bombs alike, and now Labor Day bears down on us signaling the end of the season. But there's still another week left in the season, and we take a trip to 17th century Netherlands in this Friday's only new wide release. Get ready for Tulip Fever! It's gonna be a Rotten Week!
Just remember, I'm not reviewing these movies, but rather predicting where they'll end up on the Tomatometer. Let's take a look at This Rotten Week has to offer.
There's nothing like a good speculative economic bubble to ignite sexual intensity between two characters. That appears to be the central premise in Tulip Fever, set in the Netherlands in the 1600s - a time when tulip sales were spiking and their value soared. A young painter falls for the wife of the dude commissioning his art, and they go on a flower-buying spree like you've always read about.
Director Justin Chadwick has done the whole period-piece thing before with The Other Boleyn Girl (43%), his most notable previous work. I suspect Tulip Fever finishes in and around the same range. Sure, the cast is excellent with Dane DeHaan, Alicia Vikander and Christoph Waltz leading the way (it also includes Judi Dench, Zach Galifianakis and Matthew Morrison among others). But man does it look boring. It's also coming out at a weird time (week before Labor Day), when bad flicks are usually buried. I'm not holding out any great hope for its critical chances.
We didn't have a strong showing last time around, with both predictions missing the mark - one rather badly. Birth of the Dragon (Predicted: 38% Actual: 25%) I had in the correct range, but it finished lower than my already low expectations. Critics agreed that the film struggled mightily with its story and was a dull martial arts flick with no real life to it. Most were frustrated with how it treated such a compelling character in Bruce Lee and how the film didn't much justice to this time in his life. I suspect this one is well forgotten in short order.
Meanwhile, Leap (Predicted: 67% Actual: 37%) was a big miss. I based much of my prediction on the French version of the animated movie (this one was the same thing, just in English), and yet the score fell well below the original. It's unclear why it didn't, ahem, translate for critics but they were non-plussed. Admittedly there were only 40-something reviews published for this one, partially because it didn't screen for domestic critics before release, but there's still no excusing that terrible score.
Next time around we've got 9/11, Home Again and It. It's gonna be a Rotten Week!
Doug began writing for CinemaBlend back when Terminator: The Sarah Connor Chronicles actually existed. Since then he's been writing This Rotten Week, predicting RottenTomatoes scores for movies you don't even remember for the better part of a decade. He can be found re-watching The Office for the infinity time.
Your Daily Blend of Entertainment News
Thank you for signing up to CinemaBlend. You will receive a verification email shortly.
There was a problem. Please refresh the page and try again.