Wait, Does The IT Director Already Have Another Project Lined Up?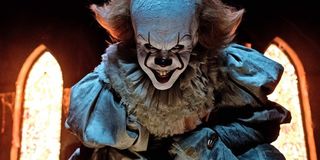 We're just days away from the big screen debut of IT, the Stephen King adaptation that marks the second feature film from Mama director Andrés Muschietti. While Muschietti already has a number of projects in various stages of development, a new report has today emerged that suggests he has plans to take on another tale of ultimate evil. Paramount Pictures has secured the big screen rights to Dracul, an upcoming novel that claims itself to be the "official" prequel to Bram Stoker's immortal 1897 novel.
Per Deadline, Dracul is the first work to be officially recognized by the Bram Stoker estate. That makes sense because the story hails from Dacre Stoker, Bram Stoker's great-grand nephew. Writing alongside J.D. Barker, Dacre Stoker tells a story set in 1868, more than two decades before the events of the original Dracula. Dracul features Bram Stoker himself as a character, imagining that the author, as a young man, had an actual encounter with a vampire that led the Irish scribe to, years later, publish the Dracula tome we know today.
Plans for Andrés Muschietti to direct Dracul appear to be nascent, but it is noted that the project would potentially also reteam him with IT producers Barbara Muschietti and Roy Lee. Frankly, though, Muschietti may have bigger fish to fry. After all, he announced at Comic-Con International that his next project would be the IT sequel, and he's also attached to helm the anime adaptation Robotech at Sony Pictures. Judging from early word of mouth and box office estimates, IT should have a sizable opening weekend. The answer to the question "What will Andrés Muschietti direct next?" may very well be, "Whatever he likes."
Plans for the Dracul book were initially revealed in 2015 under the title Dracula Begins. That was on the heels of Universal Pictures' big screen release Dracula Untold. Itself a prequel to the Bram Stoker story, Dracula Untold went back even farther, making an attempt to reconcile the Dracula character with the real life Vlad the Impaler. Although the film did decently internationally, Dracula Untold brought in just $56 million in its domestic run and failed to reignite the Universal Monsters franchise.
The fiction that Bram Stoker believed his Dracula to be true seems to be one that Dacre Stoker and J.D. Barker are eager to maintain and bizarrely, it's an idea that we've seen tied to the Dracula story in the past, albeit indirectly. Director E. Elias Merhige's Shadow of the Vampire was released in 2000 and imagined that, in shooting his famous unauthorized Dracula adaptation, 1922's Nosferatu, director F.W. Murnau found himself working with an actual vampire (played by Willem Dafoe in a performance that earned him an Academy Award nomination).
Check back for updates on Dracul as they become available. Meanwhile, you check out what we know about Universal's budding Dark Universe and make your own guesses about when their version of Dracula might debut.
Your Daily Blend of Entertainment News