When You Can See The Biggest Movies From The 2018 Toronto Film Festival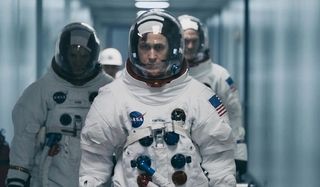 Reading about film festivals creates a real fear of missing out. Believe me, we feel it during the annual Venice and Telluride Film Festivals, even as we are readying our own schedules for the Toronto International Film Festival -- where we scramble to catch up with the best of the best in a very short window of time. But you, reading about all of the activity from back home, want to know when these highly anticipated films will finally make it somewhere that YOU can see them... whether that's in a theater or on a progressive streaming service like Netflix.
We have you covered. Here's a quick rundown of the top movies getting all of the buzz at the Toronto International Film Festival -- followed by the latest known release date for said feature. Fill your calendar, read about the movies here on CinemaBlend, and prepare to enter the conversation as we guide you all the way through the Fall film festival season and prepare, together, for the annual Oscar push.
A Star is Born
Bradley Cooper attempts to tell a familiar story (there are three previous versions of Star available to watch right now), though the ace up the first-time-director's sleeve appears to be Lady Gaga in the role of a gifted songwriter who discovers the confidence to become a blistering stage star. The chemistry between Gaga and Cooper is said to be undeniable, and we expect A Star is Born to be an Oscar player in multiple categories.
Opens: October 4
First Man
Ryan Gosling re-teams with his La La Land director Damien Chazelle for a gritty, humanizing recount of the space race from the 1960s, specifically the Gemini and Apollo missions that led to the eventual moon landing that put Neil Armstrong (Gosling) on the surface of the moon. This one will be a must-see in IMAX when it opens in theaters.
Opens: October 11
Roma
Alfonso Cuaron follows up his Oscar-winning effort on Gravity with a grounded family drama that's said to pull mostly from the vivid memories of his childhood. Roma is shot on beautiful black-and-white film, and is already being hailed as an emotional, honest and devastating tearjerker.
On Netflix: December 14
Beautiful Boy
Based on the best-selling memoir of the same name, Beautiful Boy follows a concerned father (Steve Carell) as he hopelessly watches his beloved teenage son (Timothee Chalamet) descend into a pit of drug addiction. Amy Ryan and Maura Tierney co-star.
Opens: October 12
Halloween
"The Shape" is back in what is being hailed as a direct sequel to John Carpenter's masterful original movie. Directed by David Gordon Green, this new Halloween brings Jamie Lee Curtis back to the role of Laurie Strode, and has her preparing to meet Michael Myers one more time, now that he has escaped from the institution that held him for all of these years.
Opens: October 19
If Beale Street Could Talk
Moonlight put director Barry Jenkins on the map. Beale Street will tell us if he stays there. Jenkins attempts to follow up on his Best Picture-winning drama by adapting James Baldwin's poignant novel about a man falsely imprisoned as the woman he loves prepares to deliver their first child.
Opens: November 30
22 July
Paul Greengrass (United 93, the Bourne films) returns to his docu-thriller roots to recount the deadliest terrorist attack in Norwegian history, where a shooter attacked a youth camp in 2011, murdering 77 young boys.
Opens: October 10
Boy Erased
After impressing audiences with his directorial debut The Gift, Joel Edgerton returns with the powerful story of a young man (Lucas Hedges) who undergoes controversial gay conversion therapy after his parents forcibly out him. Edgerton co-stars, alongside Nicole Kidman and Russell Crowe.
Opens: November 2
The Predator
Much like Halloween, Shane Black's The Predator will blow the dust off a time-tested film franchise and try to put a new spin on the story, this time pitting the murderous alien creatures of the title against a band of soldiers and scientists who might be as crazy as the marauding Predators, themselves. Olivia Munn, Thomas Jane, Sterling K. Brown and Keegan-Michael Key co-star.
Opens: September 14
White Boy Rick
White Boy Rick looks like it shares the DNA of some early Marty Scorsese movies (think Taxi Driver and Goodfellas), as it tells the unlikely rise of a teenage gangster (Richie Merritt) who falls in with the drug-slinging crowd and somehow makes a name for himself as a successful criminal. Matthew McConaughey, Bruce Dern, Bel Powley, Eddie Marsan and Jennifer Jason Leigh co-star.
Opens: September 14
Widows
Widows looks like a commercial effort by Steve McQueen, the fierce filmmaker behind such searing efforts as 12 Years a Slave and Shame. But when he casts such incredible actresses as Viola Davis, Michelle Rodriguez, Elizabeth Debicki and Carrie Coon as criminal wives fighting against the corrupt system to maintain their hard-earned (stolen) money, McQueen certainly has our attention.
Opens: November 16
The Front Runner
Hugh Jackman throws his hat into the Oscar ring for The Front Runner, the true-story of presidential candidate Gary Hart who saw his campaign torpedoed by a political scandal involving his extramarital affair. Director Jason Reitman will try to connect the dots between politics, the media, and our current tabloid-hungry society. Will he make the right conclusions?
Opens: November 21
The Hate U Give
Angie Thomas' YA novel is adapted into a mature conversation about race and civility when a white police officer shoots an unarmed black teenager, causing unrest in an African-American community. Amandla Stenberg, Anthony Mackie, Regina Hall and Russell Hornsby co-star.
Opens: October 19
Life Itself
Dan Fogelman, the writer-producer on the current TV smash This Is Us, applies that formula to the big screen to tell an interconnected story of multiple characters trying to keep their troubles managed in New York City. The buzz on this one is weird, though the cast is powerful, including Oscar Isaac, Olivia Wilde, Olivia Cooke and Annette Bening.
Opens: September 21
The Old Man & The Gun
Reported to be Robert Redford's final on-screen performance, Old Man follows a lifelong bank robber who rekindles his criminal activities once he gets out of jail.
Opens: September 28
The Sisters Brothers
An unconventional Western with an outstanding cast, The Sisters Brothers finds Joaquin Phoenix and John C. Reilly as guns for hire on the frontier who cross paths with Jake Gyllenhaal and Riz Ahmed.
Opens: September 21
The Kindergarten Teacher
Netflix picked up this disturbing little thriller following its Sundance debut. In it, Maggie Gyllenhaal plays the kindergarten teacher of the title, who becomes obsessed with one of her young students who displays a knack for creating original poetry. The lengths that she goes to foster his talent... well, it just needs to be seen.
Opens: October 12
Ben Is Back
A major theme at this year's TIFF was drug addiction and recovery, which Ben Is Back addresses by casting Julia Roberts as a mother coping with the return of her older son, Ben (Lucas Hedges), on Christmas Eve. The family bends over backwards to make sure the teenager doesn't relapse, but that proves much harder than anticipated.
Opens: December 7
Managing Director at CinemaBlend. ReelBlend cohost. A movie junkie who's Infatuated with comic-book films. Helped get the Snyder Cut released, then wrote a book about it.