This Rotten Week: Predicting Shazam!, Pet Sematary, And The Best Of Enemies Reviews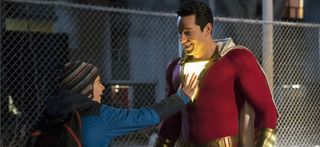 As we make our way into the fourth month of the year, we have a wide variety of features going into wide release. This week we have another big superhero blockbuster, terrifying burial ground, and a civil rights story. Get ready for Shazam!, Pet Sematary, and The Best Of Enemies.
Just remember, I'm not reviewing these movies, but rather predicting where they'll end up on the Tomatometer. Let's take a look at This Rotten Week has to offer.
Most superhero stories are geared toward a young man's fantasy. Get super powers, overcome obstacles, save the world. It's a pretty standard formula. And then sometimes you get a story in which the hero IS a kid who can transform into an adult with the super powers. That's the fantasy cranked up another notch. Such is the case with Shazam! in which young Billy Batson must merely yell out the titular word and become a Superman-like hero. How he explores these new powers (with all of their ups and downs) is the theme of this latest addition to the DC Universe. It looks pretty great.
After stumbling out of the gate, the DC Universe is making something of a comeback. Three of their last four movies - Wonder Woman (93%), Aquaman (65%) and now Shazam! - have scored well with critics. Only the absolute mess of Justice League (40%) sandwiched in there was a stumbling block. Critics are really taking to this latest offering, appreciating the candid nature of the story and the fun-loving tone.
Don't let the comical misspelling of "Cemetery" fool you. There's nothing funny about Stephen King's story of an ancient burial ground that can revive the dead and turn the reanimated bodies into all-encompassing evil. Such is the case with Pet Sematary, in which the Creed family makes the bad mistake of buying a new house that just happens to have serious evil in the backyard.
Stephen King's classics still hold up as horror fare, evidenced by the remake of IT (85%) two years ago. His storytelling and high concept plots translate well to the big screen and this latest fits the bill as well. Early sentiments are overwhelmingly positive with the Tomatometer sitting at 85% through more than 40 reviews. I don't think it drops all that much over the course of the week but it will just a bit. Pet Sematary looks creepy as hell and critics seem to enjoy the ride.
Based on a true story, Best of Enemies centers around the desegregation movement and the relationship between a Ku Klux Klan leader and an African-American civil rights activist - clashing over a local school system in the early 1970s. From an historical perspective, this flick looks like it hits all of the right notes without ever getting into the nitty-gritty. My fear with this kind of film is, in an effort to make it mass appeal to a large audience, the tone becomes more comedic/melodramatic rather than what was found in reality.
I don't think it looks bad, but rather a movie that doesn't really want to offend anyone. And I think the critics see it for that and the score doesn't quite get to "Fresh" status.
The Rotten Watch went one for two last week with The Beach Bum (Predicted: 47% Actual: 52%) falling within my range of succes. Harmony Korine's story of Matthew McConaughey doing something like a career-achievement role as a stoner author living through a psychedelic background didn't land with the whole crowd. Moondog and his exploits weren't for everyone, and critics were basically split it right down the middle.
Coming in with some rather high expectations, Dumbo (Predicted: 67% Actual: 50%) ended up being a disappointment for Tim Burton and company. Despite the hype around the live action remake, critics weren't over the moon with the result, mostly agreeing it was a big time missed opportunity considering the source material. It finished right down the middle with both the positive and negative reviews carrying mostly the same theme. Most say it was underwhelming across the board.
Next time around we've got After, Hellboy, Little and Missing Link. It's gonna be a Rotten Week!
Doug began writing for CinemaBlend back when Terminator: The Sarah Connor Chronicles actually existed. Since then he's been writing This Rotten Week, predicting RottenTomatoes scores for movies you don't even remember for the better part of a decade. He can be found re-watching The Office for the infinity time.
Your Daily Blend of Entertainment News
Thank you for signing up to CinemaBlend. You will receive a verification email shortly.
There was a problem. Please refresh the page and try again.