The Best Horror Movies Streaming On Amazon Prime Right Now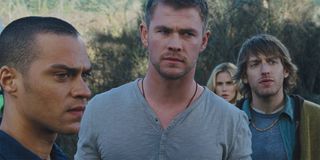 CinemaBlend participates in affiliate programs with various companies. We may earn a commission when you click on or make purchases via links.
If you consider yourself a horror fan and don't presently have an Amazon Prime subscription, you are doing yourself a disservice. There are thousands upon thousands of titles available, and a great number of them are of the genre of monsters and mayhem – and while all of them may not be real winners, there is an excellent number of phenomenal titles that are currently available.
So what does Amazon have that can be considered the best of the best? We assume you clicked on this article looking for the answer to that question, and we are happy to provide with this list of 14 titles that you can watch instantly!
Crawl (2019)
When a massive hurricane is about to hit her house, a young woman (Kaya Scodelario) goes against all common sense and ignores warnings to return home and ensure the safety of her father (Barry Pepper). Unfortunately, not only is the house totally flooded, but has been infested by hungry alligators.
Why It's A Good Option For Horror Fans: Director Alexandre Aja has a real knack for tension, and once our protagonist is in the house battling gators you won't be able to leave the front of your seat (that is, unless you accidentally fall off of it).
Stream it on Amazon Prime here.
Hereditary (2018)
A family of four (Toni Collette, Gabriel Byrne, Alex Wolff, Milly Shapiro) is left grief-stricken when a grandmother passes, but, as they soon discover, that event is only the start of their pain. Mysterious events begin to play out that leave even more tragedy in their wake, with all of the events barreling towards a conclusion of shocking terror.
Why It's A Good Option For Horror Fans: Writer/director Ari Aster wasted absolutely no time showing movie fans that he is the real deal, as Hereditary is not only meticulously crafted, but features images that will haunt your nightmares for weeks.
Stream it on Amazon Prime here.
Midsommar (2019)
Following a tragic family incident, a young woman (Florence Pugh) travels to Sweden with her boyfriend (Jack Reynor) and his three friends (Vilhelm Blomgren, William Jackson Harper, Will Poulter) to attend a traditional mid-summer festival. At first the sun-splashed event all seems peaceful and idyllic, but slowly the group begins to discover sinister underlying intentions.
Why It's A Good Option For Horror Fans: Once you're done watching Hereditary, Ari Aster's sophomore effort is immediately ready for you to enjoy, sporting a wholly different vibe, but also showcasing more of their nightmare-haunting images.
Stream it on Amazon Prime here.
The Cabin In The Woods (2012)
When a group of college students (Kristen Connolly, Chris Hemsworth, Anna Hutchison, Fran Kranz, Jesse Williams) make their way up to a secluded cabin in their woods, their plan is to have a booze and fun soaked weekend. What they don't understand, however, is that they are actually just pawns in terrifying machinations that are being orchestrated from a control room by two engineers (Richard Jenkins, Bradley Whitford).
Why It's A Good Option For Horror Fans: One would be hard-pressed to name a more clever modern horror film, as The Cabin In The Woods puts an ingenious spin on a classic set-up that wonderfully examines why it is that we're attracted to horror movies in the first place.
Stream it on Amazon Prime here.
Suspiria (2018)
A remake of the Dario Argento-directed classic, the film centers on a young American woman (Dakota Johnson) who is accepted into an elite dance company in Berlin. What she doesn't know is that the academy is operated by a coven of witches, and it's a truth she must discover before it is too late.
Why It's A Good Option For Horror Fans: Most missed out on this one when it was in theaters, and that's a shame because it is a twisty, mysterious, and chilling thriller that features an absolutely remarkable and jaw-dropping conclusion.
Stream it on Amazon Prime here.
Phantasm (1979)
After the death of a friend that is said to be a suicide, a group of friends investigate the circumstances and are horrified to learn about The Tall Man (Angus Scrimm), a looming malevolent figure with an array of violent weapons and monstrous intentions.
Why It's A Good Option For Horror Fans: If you like your horror movies bizarre, surreal and super bloody, writer/director Don Coscarelli's classic will both thrill and shock you as it unloads some exceptionally epic and horrific scenes.
Stream it on Amazon Prime here.
The Dead Zone (1983)
A man named Johnny Smith (Christopher Walken) wakes up from a five-year coma following a car crash and is stunned to discover that he has psychic visions that are activated whenever he touches another person or an object of significance. People debate whether he is the real deal or a fraud as he performs the impossible, but it's when Smith discovers a rising politician (Martin Sheen) who is destined to end the world, he must decide how far he is willing to go to fix the future.
Why It's A Good Option For Horror Fans: This is a horror movie from the minds of two genre geniuses – Stephen King and David Cronenberg – and if that's not enough to sell you, then you might want to reconsider whether or not the title "horror fan" applies to you.
Stream it on Amazon Prime here.
The Monster Squad (1987)
A group of monster-obsessed kids (Andre Gower, Robby Kiger, Brent Chalem, Ryan Lambert) find themselves with the responsibility of trying to save the world as they know it from being taken over by Count Dracula (Duncan Regehr), Frankenstein's monster (Tom Noonan), The Mummy (Michael MacKay), The Gill-man (Tom Woodruff Jr.), and The Wolf Man (Carl Thibault/ Jonathan Gries). Before it's too late they must use a special amulet to open a wormhole that will cast out the legendary villains from our plane of existence forever.
Why It's A Good Option For Horror Fans: The Monster Squad is definitely more fun than scary, but it's actually exceptionally fun, and a perfect treat for anyone looking to either reminisce about their own horror-obsessed youth, or initiate a few fan into the genre.
Stream it on Amazon Prime here.
Pet Sematary (1989)
A family (Dale Midkiff, Denise Crosby, Miko Hughes, Blaze Berdahl) moves to a small town in Maine where they settle into their new lives in a new house – which just so happens to have a mysterious pet cemetery on the premises that is said to bring the dead back to life. When a great tragedy occurs, there is extreme temptation to try and rectify things with the mystical burying ground, but as the characters discover, sometimes dead is better.
Why It's A Good Option For Horror Fans: You could watch the remake, which is also available to stream on Amazon Prime, but the truth is that this adaptation of Stephen King's dark classic (written by King himself) is the superior feature and still provides serious scares more than 30 years after its release.
Stream it on Amazon Prime here.
Child's Play (1988)
When a fugitive serial killer names Charles Lee Ray (Brad Dourif) is being pursued by the police and is on the verge of death following a couple of gunshot wounds, he uses a magical incantation to transfer his soul into a "Good Guy" doll. When the toy is unknowingly purchased by a mother (Catherine Hicks) for her young son (Alex Vincent), they are totally unaware of the evil that they have permitted to enter their home, and Charles Lee Ray continues his reign of terror as the infamous Chucky.
Why It's A Good Option For Horror Fans: Chucky might only be two feet tall, but he more than earns his place as one of the great 20th century horror icons, as Child's Play is one of those rare genre movies that is scarier than you remember it.
Stream it on Amazon Prime here.
Night Of The Living Dead (1968)
When a mysterious incident results in the dead coming back to life with cannibalistic urges, a group of random survivors gathers together in a farmhouse while waiting for any kind of rescue. They board up the house to try and protect themselves from the infectious flesh-eating ghouls, but while trying to survive discover that the evils of the world aren't just limited to the monsters outside.
Why It's A Good Option For Horror Fans: Do you really need to be sold on a George Romero zombie movie? This is a film that essentially invented an entirely new horror subgenre, and is shockingly still as deeply affecting today as it was in the late 1960s.
Stream it on Amazon Prime here.
Bad Taste (1987)
A group of man-eating aliens invade Earth with plans to abduct humans and transport them back to their homeworld where they can become food in an intergalactic chain restaurant. The world's only hope for survival is a small ridiculous paramilitary force in New Zealand (Peter Jackson, Terry Potter, Pete O'Herne, Mike Minett).
Why It's A Good Option For Horror Fans: This one is definitely more funny than scary, but there's a supremely entertaining amount of gore, and it's a must-see for anyone who considers themselves a Peter Jackson fan, as it is how the great filmmaker got his start.
Stream it on Amazon Prime here.
The Loved Ones (2009)
When a nerdy teenager (Robin McLeavy) is rejected by her crush (Xavier Samuel) when she asks him to be her prom date, it sends her on a bit of a psychotic spiral that sees her kidnapping him with the assistance of her deranged father (John Brumpton). The daddy-daughter duo do their best to make it a night to remember in the most horrific way imaginable, while their suffering and tortured captive searches for any means of escape.
Why It's A Good Option For Horror Fans: This little Australian gem is small in scale, but big on seriously fucked up moments and cool little twists.
Stream it on Amazon Prime here.
Nosferatu (1922)
One of the most important early horror films, the movie is an unofficial adaptation of Bram Stoker's "Dracula" and centers on an undead bloodsucker (Max Schreck) who finds himself looking for a new residence, and in the process forms an obsession with the wife of his real estate agent.
Why It's A Good Option For Horror Fans: The movie is a must-see for its historical significance alone, what with it being the first ever vampire film.
Stream it on Amazon Prime here.
We regularly do these kinds of streaming scans here on CinemaBlend, highlighting the best features there are to offer currently on subscription-based services, so be on the lookout for more!