This Rotten Week: Predicting John Wick: Chapter 3, A Dog's Journey, And The Sun Is Also A Star Reviews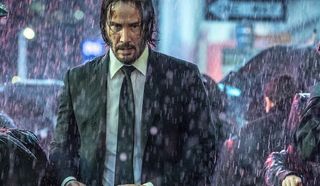 This week we've got the ultimate contract killer coming back for more killing, a dog getting reincarnated over and over again, and one night for love in the city. Get ready for John Wick: Chapter 3 - Parabellum, A Dog's Journey, and The Sun Is Also A Star.
Just remember, I'm not reviewing these movies, but rather predicting where they'll end up on the Tomatometer. Let's take a look at This Rotten Week has to offer.
The original John Wick (87%) was something of a critical surprise considering the violent nature of the the revenge/vigilante film, but it sure was a fun watch and critics saw it as such. The filmmakers then followed up with an even more successful sequel, John Wick Chapter 2 (89%), which performed slightly better using basically the same premise and just ramping up the action that much more. Now we're getting ready for the third installment, John Wick: Chapter 3 - Parabellum, and if it continues getting the solid write-ups it's already received, it will finish as the best of the group so far
In the new film, which picks up moments after the end of the last movie, John Wick (Keanu Reeves) has to withstand an onslaught of those out to kill him as a 14 million global contract is taken out on him. These movies have found success mixing insane action and fantastic world-building, and it seems like that's continuing in John Wick: Chapter 3 - Parabellum. Chad Stahelski is back directing this third installment, and early sentiments are overwhelmingly positive with the Tomatometer sitting at 98% through 40 reviews. I suspect the score will dip a bit as we get closer to release, but ultimately be considered one of the best-reviewed action films of 2019.
In A Dog's Purpose, audiences were introduced to Bailey, a young pup who lives a multitude of lives, regularly reincarnated with the purpose of trying to help the boy who first owned him, Ethan. It was a nice enough story about pets, love and friendship, though it wasn't exactly beloved by critics (landing a 34% score on Rotten Tomatoes). The sequel, A Dog's Journey, is about, well, the exact same thing. Replace Ethan with his granddaughter CJ and just about everything else looks identical.
A Dog's Purpose was a massive commercial success, earning more than $200 million at the box office, so it's no wonder we're getting another chapter of this particular story. Considering the vanilla nature of the narrative, it's tough to imagine critics panning it all that hard, but like its predecessor, there's likely a ceiling on just how high it can reach on the Tomatometer. I suspect A Dog's Journey winds up with a score better than its predecessor, but still not quite "Fresh."
In The Sun Is Also A Star, adapted from the book by author Nicola Yoon, audiences are introduced to Natasha, whose family is about to be deported. Things seem quite grim right up until she meets Daniel, who'll convince her they are destined to fall in love in the course of just a few hours. From the trailer it seems to be jam-packed with dialogue you'd never hear in real life, but I imagine the teenage crowd will eat up with a spoon.
It doesn't look downright terrible (I'd go as far as to say it will definitely appeal to its target demographic) but I can't imagine it winds up being a movie for everyone. And unfortunately for The Sun Is Also A Star, there aren't a ton of teens on Rotten Tomatoes having their voices count towards the score. It's directed by Ry Russo-Young, who previously directed Before I Fall (63%), but I don't think it will finish as high as that one. It just looks very cookie cutter and unrealistic.
I had merely a so-so week last time around with my predictions resulting in two hits and two misses. Detective Pikachu (Predicted: 67% Actual: 63%) finished well within range, and still I thought it was something of a surprise that it scored this high on the Tomatometer. But the filmmakers clearly had fun with the concept of Pokemon living in the real world, giving Pikachu something of a snarky demeanor to boot. It didn't finish off the charts, but this is more than an acceptable score, and the first ever "Fresh" video game movie.
Tolkien (Predicted: 44% Actual: 49%) was the other film I was on target with, and I was helped by having some early reviews in at the time of publication. Based solely on the trailer I would have likely gone a little higher on the score, as I thought it looked solid, but critics were apparently not impressed with it, and deemed it bland. It sure seems like this was a missed opportunity considering the author's legacy and the incredible real world adventures that inspired the fantasy series by which all others are judged.
Meanwhile, Poms (Predicted: 51% Actual: 29%) was a bad miss. I wish I had stopped halfway through the trailer because then my prediction would have been more accurate. But the sentimental aspect of the main character dealing with a terminal illness definitely swayed me on where it would land with critics. It turns out that part of the story wasn't appreciated, and this was apparently a stinker.
Finally, The Hustle (Predicted: 41% Actual: 16%) was a really bad miss. Critics hated this thing, and it isn't extremely hard to see why. My prediction was that the characters would be completely irredeemable, but the laughs would help people appreciate the movie on the whole. Unfortunately I was much more correct about the first half than the second.
Next time we've got Aladdin, Booksmart and Brightburn. It's gonna be a Rotten Week!
Doug began writing for CinemaBlend back when Terminator: The Sarah Connor Chronicles actually existed. Since then he's been writing This Rotten Week, predicting RottenTomatoes scores for movies you don't even remember for the better part of a decade. He can be found re-watching The Office for the infinity time.
Your Daily Blend of Entertainment News
Thank you for signing up to CinemaBlend. You will receive a verification email shortly.
There was a problem. Please refresh the page and try again.