Rapper Cam'ron Takes Shots At Uncut Gems For Offering Him 'Sucker Ass Role'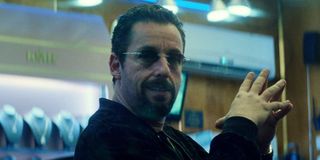 Aside from shining a light on the effects of gambling additions, Uncut Gems gave audiences an up close and personal look into the world of jewelers in New York's Diamond District. Directors Josh and Benny Safdie wanted their film to be as authentic as possible and took measures to ensure that this would be this case. Now, it would appear that the directing pair and the film's star, Adam Sandler, worked with Cam'ron during prep, and the rapper is feeling a bit slighted after the movie's release.
Cam'ron recently shared a new featurette for Uncut Gems through an Instagram post, which features Izzy Avianne, a New York jeweler who was consulted for the film and provided some of the jewelry. Avianne revealed that the Safdies actually found him through Cam'ron, a client of his. You can check out the video down below:
It would appear that Cam'ron was initially set to start in Uncut Gems alongside Jonah Hill, which led him to link the directing duo with Avianne. The rapper also revealed that after the initial plans fizzled out, the Safdie Brothers offered him a lesser part that he described as a "sucker ass role."
Still, Cam'ron admits that aren't any true hard feelings between him and the Safdies. Although, he joked that he would still like some kind of consulting fee for his services.
We can't say for sure just how involved Cam'ron was with the project before he was cut, but bringing in Avianne seems like it was invaluable for Sandler and the directors. So a consultant credit or special nod during the end credits would have been reasonable.
While the Safdie Brothers were said to have been pursuing Adam Sandler for the lead role for years (despite Hill apparently being attached), there were a number of changes that were made to Uncut Gems during development. For instance, NBA legend Kevin Garnett wasn't always going to be the film's starring athlete, and the Safdies even had a different ending in mind.
In terms of Cam'ron, it's unclear as to what his role was going to be, but some might assume that he was going to play Lakieth Stanfield's character, who was coincidentally responsible for bringing new clients to Sandler's Howard Ratner. Casting Cam'ron also makes sense given the heavy hip hop influence on Uncut Gems. He would have joined The Weeknd as the second musical talent to appear in the film.
Even if Cam'ron doesn't get his due from the Safdie Brothers, it's good to know that he's not too sore with them and, following this revelation, the two could seek to rectify it. Also, given their past collaboration, there's always a chance they could all join forces again in the future. Uncut Gems is now available on Digital HD, Blu-ray and DVD.
Covering superheroes, sci-fi, comedy, and almost anything else in film and TV. I eat more pizza than the Teenage Mutant Ninja Turtles.
Your Daily Blend of Entertainment News
Thank you for signing up to CinemaBlend. You will receive a verification email shortly.
There was a problem. Please refresh the page and try again.